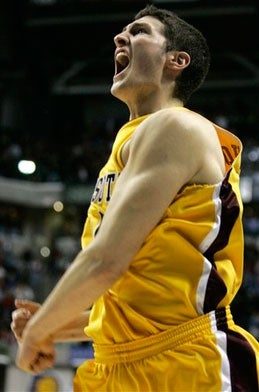 When they were handing out natural disasters in the NCAA conference tournaments, the SEC came up with tornadoes. The Big Ten ended up with lightning striking twice. (The MAC? Perpetual darkness.) Minnesota's Blake Hoffarber's last-second desperation jumper to beat Indiana 59-58 was brain-exploding unto itself, but this isn't Hoffarber's first circus shot, or even his best.
In 2005, during a high school state championship game, Hoffarber heaved a shot (while lying on his back) on the perimeter to tie the game and force double overtime. His team went onto win the state title, and he would win an ESPY in 2005 for Best Play.
And now, for both shots:
When Hoffarber plays Mario Kart, he doesn't need any goddamn red shells. Green ones, baby. Green.
In fact, there are murmurs that the US Navy tapped Hoffarber to shoot down that spy satellite using a sling and pebble. And while we never did find out who this kid was, we can only assume he was the little boy who heaved that thing down the court. Or perhaps he was the little boy who got clocked ... and that inspired him to dedicate his life toward the preservation and advancement of goofy-ass game-winning shots.
Hoffarber Nails Game Winner - Again! [The Love Of Sports]
Aside — Dear Indiana coach Dan Dakich:
Never forget your roots of failure.
Lovingly,
—Suss