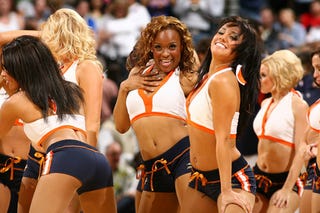 A couple of nights ago Denver beat Golden State to take full control over the last playoff spot in the Western Conference, but now things are wide open yet again. The Warriors got great performances out of all five of their starters in last night's win over the Clippers. Baron Davis and Stephen Jackson combined for 52 points in the 122-116 victory that moves the Warriors back into a tie for the eight spot. The Nuggets hold the tie-breaker thanks to Thursday's win, so the Warriors will be looking for some help from the Houston Rockets later tonight.
• Everybody Fears the Wiz. Even the Cleveland LeBrons can't feel too good about playing the Washington Wizards in the first round of the playoffs. Although they've dominated similar post season match-ups in recent history, this Wizards team is a whole different beast. Caron Butler sat out last night's win over the 76ers to rest a sore knee, but the trio of Jamison (25/13), Stevenson (19/7/4), and Arenas (20/7/5 off the bench) locked it up for Washington. They outscored Philly 31-9 in the fourth quarter to pull away for a 109-93 victory.
• Nobody wants the 8 seed. The Hawks had a chance to lock up an exceedingly rare playoff birth, but they couldn't get past the Celtics. Fortunately the only team that can catch them is the Pacers, who couldn't manage to beat the woeful Bobcats. Danny Granger had 37 points in the 107-103 loss.

Image courtesy of Getty, via Yahoo! Sports