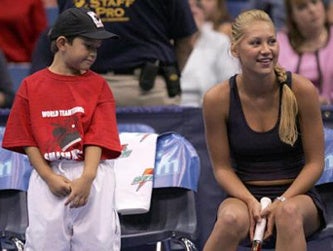 As a young man I once wrote a school newspaper article on everyone's favorite up-and-coming tennis star, Anna Kournikova, for no other reason than because she was the greatest thing to ever happen. Another time my father lamented the fact that I couldn't play in the Little League World Series (age restrictions?) so that they could list my "Fav Athlete" as Anna Kournikova. I'm telling you all this now so you know why I bother posting this story, via Sports by Brooks...
"I am running in a triathlon on South Beach on Sunday the 13th. K-Swiss is one of the sponsors of the triathlon, and I am running 4 miles of the race, and all proceeds will benefit St. Judes Children's Hospital. After the race I'm going to be at the K-Swiss tent on the Beach signing autographs and doing some meet and greets, and then in the evening I'll be at a K-Swiss sponsored cocktail party on a yacht in Miami Beach. I can't wait to get to the beach and run outside, although I am not too excited about having to get up at 5am!!!"
So, you're saying that there's no swimwear portion to of the event? Why are you trying to kill the Children of St. Jude's?
SbB via South Beach Tri, which is much safer for work than it sounds.