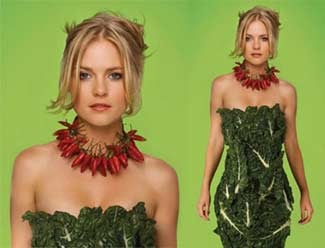 Greetings. Weed Against Speed here. With Wyshynski gone to The Exclamation Point, my fellow editors and I at Melt Your Face Off are proud to take the reins of the NHL Closer for the rest of the Playoffs. Don't worry. There will still be hot chicks in little clothing.
One caveat: changes unfortunately will have to be made. As you can see from the photo above, we are big supporters of a more balanced diet. Burgers (and the women who wear them) are fine, but it is a good idea to mix in a salad every once in a while. Wouldn't you agree?
As we were getting our beer pedicures the other day, we discussed and ultimately decided that it would be in the best interests of you, the dear Closer reader/ogler, to split up the games between the editors so we could focus our individual energies and wry wit on one game only.
First up is Hextall454 with his breakdown of the Flyers/Capitals game. In keeping with the spirit of the new lean and mean Closer, Hex is presently on a diet subsisting of only trail mix and light beer. Poor guy. Light beer tastes like piss.
Sticks and Stones May Break My Bones, but Pierre McGuire Can Never Hurt Me. Some would say that the storyline behind yesterday's series equalizer between the Flyers and Caps was Marty Biron's sparkling 24-save effort. Others would argue it was Washington's inability to get their brand of forechecking, counterattacking puck off the ground. But frankly, the stars of the Flyers 2-0 win were the men of the NHL on NBC. While they'd like to let you know how they really felt about Sunday's game at Verizon, it appears the broadcast team downed a pack of Orbit Gum prior to air and gave us their best third grade name-calling. In the praising of Scottie Upshall's ability to draw dumb penalties on Mike Green, rinkside reporter Pierre McGuire called him a hard-working, hard-checking forward, "although a bit of a pottymouth." And prior, in Mike Milbury's featurette where he gets to stand in front of a shiny flat-screen instead of trading blue-chip goalies to Florida, he described Alex Ovechkin's play as that of an "immature 22-year old." Easy there, fellas. Hockey is for the whole family, remember? Jeff "Not a Nice Person" Carter and R.J. "You're a Stupidhead" Umberger had the goals for Philly. — Hextall454
Next in the lineup, Reasonable Doubt fills us in on the outcome of the Habs/Bruins tilt. To stay fit, Reasonable Doubt enjoys jogging, mini-golf and walking around his neighborhood handling out pamphlets regarding the dangers of margarine. Additionally, he advises that you get thin quicker by doing heroin in large doses. And when you get arrested for it, feel free to call him for help with that too.
Boston survives a Canadien Invasion. There had to have been a couple thousand fans of Les Habitants that traveled to Boston, and boy were they vocal in Montreal's 2-1 overtime loss to the Bruins. The booing could be heard drowning out the Boston fans more than once. Boston was clueless as to how to turn the tables after dropping an OT Loss on Saturday night to drop to two down in the series. On the Boston Herald's website, of the eight responses to the "What do the Bruins need to do to beat Montreal?" Six responses got above 15 percent. In the words of the Ghost of Christmas Past in Scrooged, "You don't know who you are. You don't know what you want. And you don't know what the hell is going on."
Marc Savard opened the scoring early in the first by beating an icing call and flipping the puck to the rookie Lucic. Lucic slotted it home past Carey Price for his first career NHL Playoff goal in only his third game on the ice. That goal at 6:03 in the 1st was the first time Boston has had a lead on the Habs this entire season, through 11 games this year. That lead got erased in the early part of the second as Steve Bégin intercepted a defensive wraparound by Boston and flipped it to Smolinski who took a shot. Tim Thomas went down like he had been shot and Tom Kostopolous tipped the rebound in over his lifeless body for the tying goal.
Other than that screwup, the penalty kill and goaltending in this game was nothing less than stellar. Carey Price was a stud, stopping every shot that came near him in the second and third period, even a slapshot off a 2 on 0 breakaway midway through the third. There were nine power plays in regulation time, with a total of FIVE shots taken. A last gasp flurry of shots by the Broons was fruitless as the game headed into overtime, where Tim Thomas defied all odds by having the eyesight to snag a puck in his glove out of mid-air, despite being older than dirt. Savard finishes the night with a high-pressure one-timer over Price's shoulder. Savard was coming off the bench, far away from a scrum on the boards for the puck. No one saw him. No one blocked him. He knocked the puck in to avoid the sweep. Bravo to the Broons. Seems more like a stay of execution than anything else, but that'll be determined another night. — Reasonable Doubt
Raskolnikov is now up with the Rangers/Devils recap. To stay in shape, Rask has taken to popping Hydroxycut in between his hourly doses of Xanax. It appears to be working splendidly.
I'm Not Touching You! Yes You Are! Karma is a bitch, Marc Staal. To allow his teammates a quick breather in overtime after the Rangers iced the puck, the second oldest cuckoo delayed a faceoff in the Rangers zone to retie Henrik Lundqvist's legpad. Five seconds later, John Madden scored on a deflection off Staal's skate to win Game 3 4-3. The Rangers lead the series 2-1.
However, who wins this series is secondary to a personal rivalry. The Eastern seaboard's first couple, Martin Brodeur and Sean Avery, took their relationship to the next level. Tempers have grown since the flopping complainers' first encounter fourteen months ago when Brodeur took a page out of Avery's book by flailing like a mobster in the East River. During a second period Rangers power play, Avery acted like every bully I've encountered by going to the front of the net, facing Brodeur, and swinging his stick in the goalie's face. Never mind that a frozen piece of rubber that nearly caused the removal of Patrick Thoresen's testicle may fly into your nether regions, Sean. Brodeur responded by taking the high road: punching Avery in the face. Girls, girls. You're both pretty.
Brandon Dubinsky scored his first two playoff goals and Jaromir Jagr added three assists in a losing effort. — Raskolnikov
Finally, LeNoceur was a trooper and pulled the late shift for the Sharks/Flames game. He has promised to swear off ribs for the duration of the playoffs, but we'll have to keep our eye on him. He's sneaky that way.
It's Too Goddamn Late For A Witty Title - Calgary Flames 4, San Jose Sharks 3. Curtis Joseph skating onto the ice for Calgary. His biggest highlights so far this season had come in the Spengler Cup (whatever that is). Yet here he was, called upon to pull the Flames out of the fire, so to speak, while Mikka Kiprusoff sat on the bench contemplating the three goals he'd allowed, and looking like he'd just gotten a text message reading "im pregnt" from the puck bunny he'd hooked up with over the All-Star break.
The Flames took out their frustrations on Sharks captain Patrick Marleau, who looked like he'd gone a couple rounds with Anderson Silva by the end of the first period. Martin Lawr...er, Jarome Iginla scored late in the first, Daymond Langkow struck in the second and Dion Phaneuf tied it up early in the third as Cujo turned the clock back at least ten years. Owen Nolan inserted the dagger into his former club late in the game to complete the comeback and send the Pengrowth Center into a gas-fueled bonfire of playoff joy.

Meanwhile, Joe Thornton is pulling his annual playoff disappearing act. If he doesn't cut the Copperfield crap, the Sharks are going to go quickly from Stanley Cup favorite to a more embarrassing early exit than that time your mom walked in on you and Kelly Devins. — LeNoceur