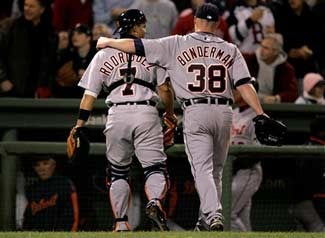 We don't have the heart, really, to check in with any of our Detroit Tigers friends, right now, from longtime Deadspin commenter fave Alex Balk to Ben Mathis Lilley to Defamer's Mark Graham. Not much is worse than expecting your team to dominate, and then watching as they start out two-and-freaking-10.
Nobody seems to understand what's going on with the Tigers, least of which their manager, who is surely sucking down Winstons at four times his usual rate. Not only are the Tigers losing, they're getting shut out, and their pitchers are dropping and, man, everything's falling apart. Some are already writing the eulogies.
We don't think it's time to write off the Tigers just yet, but we do feel bad that it has to happen to that fanbase. Those guys are on the good side of the force. If a preseason favorite was going to collapse .... the Tigers would have to be considered the most tragic. But it's early.
Tigers blog Bless You Boys has the most alarming comparison; the season so far has been like watching Tigers pitchers field in the 2006 World Series. Poor guys.