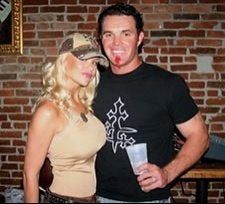 Former major leaguer Scott Spiezio's tumultuous battle with alcoholism has been marred by some ugly incidents. But even though the 35-year-old Spiezio had some extremely heavy baggage, the Atlanta Braves took a flyer on the guy, hoping he could get his life together and earn a spot on the Braves roster at some point this year. It didn't work out.
This past weekend Spieizio was released from his minor league contract with the Richmond Braves. Why? Well, it's pretty easy to figure out, but here's how Braves' GM Frank Wren put it:
"[Here's what] We asked him to do: No. 1 is to continue his aftercare, which included testing, No. 2, that he attend AA [meetings] and No. 3 he would show up at the park every day ready to play. And yesterday he was not ready to play."
"Not ready to play" seems to indicate a major backslide in Spiezio's recovery. Obviously, dude's got some troubles that baseball can't fix. At least now Spiezio will have more time to dedicate to his Ozzfest-y band, Sandfrog. Sandfrog is scheduled to come out with a new album soon, titled "The Offseason," which will include songs about Spiezio's personal problems, plus a song dedicated to deceased Cardinals' pitcher Josh Hancock. That album sounds like a really, upbeat toe-tapper.
Troubled player arrives for Richmond game 'unfit' to play [Atlanta Journal-Constitution]