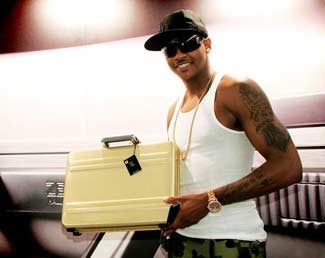 Carmelo Anthony, on the heels of one of the biggest wins for Denver of the season, continued his bad habit of doing something stupid at just the wrong times this morning: He got a DUI.
He has already apologized to the team.
"[Anthony] cooperated by consenting to a blood test, the results of which will not be available for approximately two weeks," [Anthony's lawyer] said in a prepared statement. "There was no accident and no one was hurt. Like anyone in a similar situation, Carmelo has to wait for the results of the blood test. He regrets putting himself in this situation. In the meantime, Carmelo will try to stay focused on his family and his team. Carmelo apologizes to his fans, the Denver community, his teammates and the Nuggets' organization for the distraction this is causing them."
Seriously, just when everything is seemingly running smooth for Carmelo, this stuff seems to pop up. The good news? Nobody snitched.
Carmelo Arrested For DUI [CBS 4 Denver]