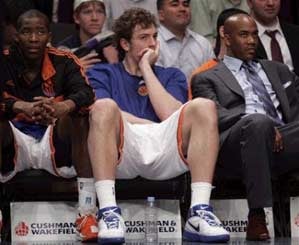 The NBA Closer is written by Matt McHale, who don't want to work. He just want to bang on the drum all day. When he's not quoting obscure 80s lyrics, you can find him watching old episodes of The Smurfs at Basketbawful. Enjoy!

Psyche! Part I. The game was over. The Sixers had won. In fact, the team was in the locker room celebrating when they found out that the officials had ruled - after a lengthy video review and several minutes worth of discussion - that Samuel Dalembert had fouled Devin Brown with 0.2 seconds left. Philly had to come back out and helplessly watch as Brown hit two foul shots that lifted the Cavaliers to a 91-90 victory. The win clenched the fourth seed for Cleveland - and a first round rematch with the Washington Wizards — and dropped Philadelphia into the seventh spot and a date with disaster...an opening round matchup with the Detroit Pistons.
Sixers forward Andre Iguodala said: "You feel like you just got seriously slapped in the face. It was like we had the 'W' and it was marked off." Added Sixers coach Maurice Cheeks: "To be a winner, then a loser, that's pretty tough." No kidding. LeBron James led the Cavs with 27 points, Zydrunas Ilgauskas added 22, and Brown had 13 points, including the winning freethrows. Andre Miller paced Philly with 26 points.

Psyche! Part II. The Wizards weren't all that concerned with beating the Pacers — Agent Zero took the night off, Tough Juice sat out with a (fake) bruised knee, and the Locksmith played only seven minutes due to an (also fake) sore back - but the team's reserves, led by Roger Mason's 31 points, still managed to overpower Indiana and take a 117-110 victory. The loss officially eliminated the Pacers from the playoffs, which is the NBA equivalent of a mercy killing. I mean, did Indiana really want to suffer through a four-game ball-busting from the Celtics? Wouldn't that have made Larry Bird's oddly-shaped head explode?

Meanwhile, the Verizon Center public address announcer informed the home crowd that Cleveland had lost. That, combined with Washington's win, kept alive the possibility that the Wiz could end up with home-court advantage in the first round. Too bad for the artists formerly known as the Bullets that somebody in Philadelphia had used The Stern Button to ensure that LeBron James would not open the playoffs on the road. Said Mason: "Somebody told me Cleveland lost. I felt that much better. I come in the locker room and they're shooting two freethrows." Yeah. Bummer.

Raptors "earn" the East's sixth seed. Thanks to the Sixers' victory-turned-loss and their own 91-75 victory over the Washington Generals Miami Heat, the Toronto Raptors earned - well, "backed into" is more like it - the sixth spot in the Eastern Conference playoffs and a first round duel with the Orlando Magic. Huzzah! And Chris Bosh? He's stoked. "It's going to be a lot of fun. Dwight (Howard) is a good friend of mine, but he's one of the best competitors that I have in this league. You know he's going to go hard. We have to..." you know what? The rest is just a bunch of blah, blah, blah. But trust me, Bosh is both excited and respectful of Howard and the Magic.

Rasho Nestorvic continued his Resurrection Tour by scoring 22 points on 10-for-19 shooting and grabbing seven rebounds. Daequan Cook scored 22 for the Heat, who have lost 21 of their last 24 games and are one loss away from the worst record in franchise history. Said Miami coach Pat Riley: "It's been one of those years. I've never been through one like this, with all the things that have happened, never even come close to a season like this." I bet Riles wishes he would have saved the whole "15 Strong" schtick for this season, huh?

Sweet merciful Zeus! Where did that come from?! The Chicago Bulls scored 151 points against the Milwaukee Bucks last night. Do not go check the box score. That is not a typo. The Bulls put up 151 — just four points off the franchise record of 155 set on December 4, 1990 against the Phoenix Suns — on 67 percent shooting. Which begs the questions: Did the Bucks even bother to show up for this one? As a matter of fact they did, because they scored 135 points on 57 percent shooting themselves. Like the old saying goes: "Defense is just waiting to get back on offense."

Some of the other absurd stats from this game include: Luol Deng scored 32 points on 15-for-20 shooting; Chris Duhon had a "trying to save my NBA career" performance by hitting for 22 points and dishing out 15 assists; Ben Gordon added 29 on 10-for-18 shooting; Larry Hughes shot 66 percent (I'm just going to assume that's a career-high); "Razor" Ramon Sessions — who spent most of the season with the D-League's Tulsa 66ers — scored 20 points and handed out a Milwaukee franchise record 24 assists, thus becoming the first Bucks player ever to record a 20-20 game with points and assists; Andrew Bogut notched 25 points on 8-for-11 shooting; Charlie Villanueva added 22 on 8-for-12 shooting. Crazy. I can only hope some of you have multiple players from these squads on your fantasy team.

The "Boston Celtics" beat the Knicks. Doc Rivers gave his Big Three the night off, used a starting lineup of Rajon Rondo, Tony Allen, Kendrick Perkins, James Posey and Leon Powe, and watched his "Celtics" beat the New York 99-93 in what may be — sorry, in what totally was — Isiah's final home game as coach of the Knicks. With his team one loss away from tying the worst record in franchise history, Isiah is still sweating out Donnie Walsh's decision on whether or not Zeke will be asked back for another season. Which has to be like waiting for the guillotine blade to fall. Said Isiah: "There are certain time when you live in uncertainty and you're not comfortable with it, but you have to learn to settle and be patient and see what plays out. And we all want certainty in our life. However, in the uncertain times you have to sit with it and in sports there are a lot of uncertain times." Well, he's certainly more philosophic about getting ready to be fired than I would be. So he's got that going for him. However, the fans still booed him and chanted for his termination in the final minutes.

Meanwhile, Boston got all pumped up by a half-time speech from Masters winner Trevor Immelman. Nobody really knew who he was, but the C's must have liked what they heard. Said Boston coach Doc Rivers: "It was great. Half the guys didn't know him, but most of them did. They gave him a nice standing ovation, shook his hand. We wanted everyone to touch what a champion felt like." Wait...half of them didn't know him, but most of them did...okay. And, Doc wanted his guys to touch what a champion felt like? That sounds more like the opening of Locker Room Jocks 17 than and NBA halftime, but whatever. Rajon Rondo had 23 points and 10 rebounds for Boston, while his backup Sam Cassell had 22 points, a giant set of balls, and some pre-game "stretching" from Celtics strength and conditioning coach Bryan Doo. Nate Robinson scored 26 for the Knicks, and David Lee added 12 points and 16 rebounds.

First round playoff preview? You betcha. The Utah Jazz gave the Houston Rockets a small taste of what to expect if the two teams should meet in the first round of the Western Conference playoffs: Brutal defense (which held Houston to 40 percent shooting), dominance on the boards (which led to a 50-38 advantage, including 16 offensive rebounds), and an early 17-point lead that eventually became a 105-96 victory.

The Jazz and Rockets have identical 54-27 records. But Utah holds the tiebreaker, so if they finish the season with the same record the Jazz get homecourt. And I hate to break this to Houston fans, but that's very bad news for their team. Of course, the Rockets finish up their season at home against the Clippers, while the Jazz have to finish their run in San Antonio ... where they've lost 17 straight regular season games. So, once again, anything could happen. Carlos Boozer broke out of his mini-slump with 21 points and 11 rebounds for Utah, and Luis Scola led Houston with 22 and 13.

It's called "taking care of business." It's what champions do. The Spurs held on to beat the Kings 101-98, thanks to Tony Parker's season-high 32 points and 11 assists (and despite Matt Bonner's mind-boggling six trillion). San Antonio's win + Houston's loss = The third seed in the West. John Salmons had 29 and 10 for Sacramento.

Take off the "We Believe" t-shirts. The party's over. It's mathematically official: The Golden State Cinderellas ... I mean, Warriors ... won't be invited to the 2008 NBA Playoff party. The Phoenix Suns blew a 17-point lead and fell behind by 11 before rallying for a 122-116 win that moved them into a three-way tie (with Houston and Utah) for the West's fourth seed. And that all happened in the second half, during which Baron Davis (2-for-13) didn't play a single second. Said Warriors coach Don Nelson: "I gave Baron a much-needed rest in the second half." So you benched your captain, co-emotional leader, and clutchest player with a shot at the playoffs at stake? Man, I must have missed skipped over that section of the Nellie Ball User Guide.

Amare Stoudemire, who was battling vaginal cramps a cold led Phoenix with 28 points on 9-for-12 shooting. Said Stat: "I was fighting a severe cold out there. It was hard for me to get my energy up. Fatigue definitely came in a lot faster than normal, but I was able to get it going that fourth quarter and give us a spark to help get this win." Wow. You're a regular Willis Reed there, Amare. Shaq had a double-double (19 points, 15 rebounds) and Steve Nash just missed a triple-double (13 points, 9 rebounds, and 14 assists). Captain Jack scored 23 for Golden State, and Quills had 16 points and 11 boards.