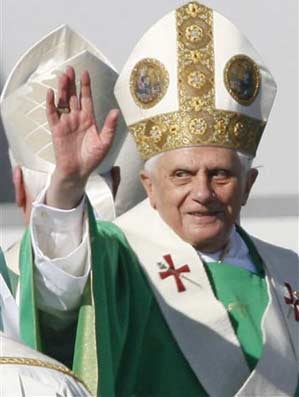 The Pope turns 81 years old today — 10 years older than John McCain, and just three years older than Julio Franco — and he's celebrating it in Washington, D.C. with President Bush. (What better way?) He will be celebrating mass at the new Nationals Stadium, which means we're going to assume Elijah Dukes won't have access to the clubhouse that day. But the real fun is when The Pope visits Yankee Stadium later this week.
Pope Benedict is going to give mass at "The Cathedral," but, you know, this is Yankee Stadium, so ya'll better stay off the grass.
The arena is home of the baseball team the New York Yankees and the Vatican has been told that the Popemobile will not be allowed to touch the grass.

Instead, the white armour-plated vehicle will do a lap of honour around the edge of the stadium.
Should be a fun trip; all of New York is in a tizzy. Though we wonder if The Pope — the most deified entity on Earth — will be improve his shortstop defense.
Popemobile Must Stay Off Grass At Yankee Stadium [The Fanhouse]
The Audacity Of Pope [Animal New York]