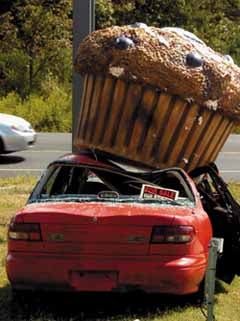 Terrorist attack, or old Monty Python sketch? You be the judge: Several members of Australia's Olympic team were enjoying a batch of chocolate muffins at a Brisbane function last week, when some of the treats were found to have been sabotaged with paper clips. According to the Brisbane Times, a "major investigation" is underway.
Three workers from the Newmarket factory of muffin supplier Merlo Kitchen Catering Company have been stood down with pay following the incident, which occurred at a morning tea last week at the Queensland University of Technology. Brisbanetimes.com.au understands two people at the function bit into muffins containing paperclips. When the paperclips were discovered, the rest of the stock was checked and paperclips found in a further 13 muffins. No one sustained injuries.
I think it was John Adams who said that no free democracy can stand when its baked goods are compromised. The terrorists hate us for our muffins.
I now leave it to Superintendent Parrot of the Hygiene Squad. Godspeed.
Aussie Olympians In Muffin Poison Scare [Brisbane Times]
Olympic Muffin Scare! [Deuce Of Davenport]