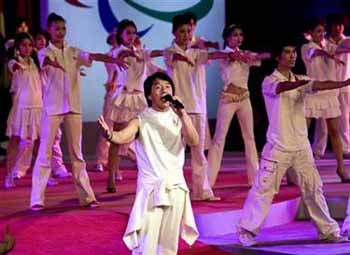 Leave it to diminutive Kung Fu dervish Jackie Chan to put this Olympic Torch protest thing into perspective. Chan, who will be a torchbearer when the relay comes to Beijing next week, says that he will deal harshly with any miscreants who might try to grab the flame from his tiny, powerful mitts.
Kung-fu action hero Jackie Chan has warned anyone planning to stop him carrying the Olympic Torch he will come out fighting. "Demonstrators better not get anywhere near me," sad the 54-year-old, speaking at the launch of latest movie Forbidden Kingdom. Chan claimed many of the protestors are simply publicity seekers. "They are doing it for no reason. They just want to show off on the TV," he said. "They know, 'if I can get the torch, I can go on the TV for the world news'."
To prove he is sincere, Chan has already recorded a song for the Olympics. Included are the lyrics:
Waiting year after year
We can see into the future
Together with hard work and sweat
We've created the five different colours.
Or, as friends know it; my Verizon ring tone.
Kung Fu Star Jackie Chan To Chop Down Olympic Protesters [Metro.com.uk]
Jackie Chan Records Olympic Ditty [The Register]