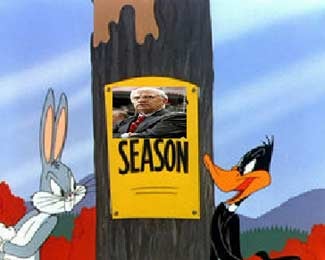 The NHL Closer is written by the five horny gentlemen from Melt Your Face Off. We accept tips in the form of Krispy Kremes, Pappy Van Winkle whiskey and whatever powder comes off Lindsay Lohan's C-notes.
The slide is complete. Thanks for showing up, Ottawa. You're one year too late in the Steven Stamkos Sweepstakes.
And Verily, Hockey Jesus Smote the Senators and Cast Them Into the Pit of Hellfire. Sidney Christ successfully spread the Gospel of the Puck in the heathen lands of Canadia via a 3-1 victory over the Godless Ottawa Senators. A sweep in the first round is what the prophets foretold and so it was.
The game was scoreless heading into the second period. After Martin Gerber made a spectacular save, the Pens regained control of the puck, worked it around the zone and Evgeni Malkin ultimately scored 1:40 into the second when he was left alone on Gerber's right, stuffing in yet another rebound. Not willing to lie down and roll over in front of the hometown fans, Cory Stillman answered Malkin's tally a little more than halfway through the period when he stuffed the puck in behind Marc Andre-Fleury during a scrum in front of the net. Game tied, 1-1.
Unfortunately, it wasn't meant to last for Ottawa. Jarkko Ruutu responded less than five minutes later with a stylish pseudo-breakaway. He outskated Brian Lee, stopped on a dime, spun around and fired a wicked backhander in between Gerber's pads for a 2-1 Pittsburgh lead. It appeared Antoine Vermette tied it up for Ottawa, but it was ruled that he kicked the puck in with his foot and it was not to be. Ottawa played their hearts out but could not put the puck behind Fleury, who has made Ty Conklin's play down the stretch during the regular season a distant memory. Sid the Kid iced the game with an empty-netter and the sweep was in the books.
But perhaps the most entertaining part of watching the broadcast was Don Cherry's commentary during the first intermission. Maybe his schtick has grown old among those of you who have had the pleasure of listening to his nonsensical tirades over the years, but as an American who does not have the pleasure of watching him on a regular basis, to watch him is spellbinding. Case in point: He was breaking down how shots from the blue line are counting towards a majority of the goals in the playoffs and if teams aren't coming out to defend those shots, they are going to pay the price. As replays played confirming Cherry's observations, he kept repeating "point shot...point shot...point shot". After the fifth or sixth time, I was convinced he was saying "porn snot...porn snot...porn snot," which sounds to me like a very strange (Ed. Note: And specific!) sexual fetish — and more inappropriately, a sticky and disgusting one. —Weed Against Speed
Sean Avery Learns Why You Shouldn't Piss off the Refs: Scott Gomez turned a critical penalty kill into the opening blow in a heavyweight fight that ended with the Rangers on top 5-3 with a commanding lead in the series. With Chris Drury in the box for an early hooking call, Gomez saw the ref put his hand up, signaling a delayed penalty on John Madden, and initiated an elaborate game of "keep away" so his team would have a longer power play once Drury was out of the box. The Rangers capitalized, with Gomez redirecting a slap shot past Martin Brodeur for the opening goal. Patrick Elias tied it up just after the opening face-off in the second off a rebound, but Marty Straka answered back within moments to regain the lead.
Elias, not to be denied, came storming back with a wrist shot from behind the faceoff circle to tie it up again minutes later. Neither team was willing to go quietly, as the series was set to head back across the river for Game 5. So much so, in fact, that Travis Zajac, in an effort to clear a puck, ended up slicing Michal Rozsival's face with his stick, causing a mighty amount of blood and a four minute double-minor penalty. The Rangers wasted the opportunity though, as the penalty expired with only two shots taken, and none on target. That didn't stop them from taking the lead back on a Chris Drury mid-air re-direct, eliminating the whole "Neither the Rangers nor Devils can score" myth.
And thaaaat's when things broke down. A late hit on Sean Avery started some jaw-jacking, and Colin White tripped Avery as he was driving to the net by diving for his knees, garnering a tripping call as Avery toppled into the net, ass-over-teakettle. On the powerplay, Jagr nearly tackled Brodeur in the crease, causing another penalty, a couple fights, and trainers having to come out to check on Marty B, as he got his bell rung in the process. The second period ended with tension building, and the hits coming harder. As the third started, Zach Parise clipped Henrik Lundqvist's stick and knocked it away from him, leaving him defenseless as Mike Mottau had an easy goal.
Avery, despite being bruised, beaten, and bloodied all game long, almost slotted home a game winner late, but he was a bit too busy complaining about the refs letting him get assraped all night without a call to actually get his stick on the ice to flip it above Brodeur's glove. Apparently Broduer was sufficiently rattled, though, as a moment later, Marc Staal sent a puck from the blue line into the back of the net, past a sprawling Marty with only three minutes to go. Gomez, who started the game with playoff-level strategery, sealed the deal with an empty netter by hauling off and slapping a faceoff puck from center ice. The Rangers ended the night with their foot on the proverbial throat of Devils fans, holding a 3-1 series lead as Game 5 in Joisey looms, ripped jeans, Aquanet and all.— ReasonableDoubt
Dr. Heimlich. Dr. Heimlich, please report to Joe Louis Arena: Nashville tied the series up 2-2 with a gritty effort on home ice. I think. Versus was carrying the feed from CBC, which was shot mostly from the rafters using some sort of ancient video technology. I felt like I was watching a game from 1985. With all the bragging Canadians have been doing the last few months about their strong dollar, you'd think they could splurge on a couple of HD cameras for the NHL playoffs. This is your national sport! You should be writing the Queen or something, politely demanding a decent picture. If an American network broadcast an NFL playoff game in 2008 looking like that, there would be a Congressional investigation.
At any rate, Nashville, through two periods at least, had more speed and more physicality. Dominik Hasek got yanked after Greg DeVries countered Detroit's first goal just 32 seconds later. Pavel Datsyuk had both Detroit goals, and looked like the only Wings player who gave a crap for most of the game. Dan Hamhuis and Shea Weber also scored for the Preds, just 32 seconds apart in the first period, and Dan Ellis was solid in the net. Detroit mostly looked their age. As a certified Wing-hater, I am eagerly anticipating the completion of another first-round Detroit choke job. —LeNoceur
Puckdumps
Sergei Samsonov lives the American Dream: slack off for half the season and get rich. [TSN]
Decide who has the best goalie mask. It's the only contest where Jocelyn Thibault beats Marty Brodeur. [NHL Logos]
A Russian writer gets his daily supply of fiber. [NHL Fanhouse]
Ben Guite just returned from India [Purple Crushed Velvet]
Gratuitous Youtube
My favorite Mike Lange quote and Martin Gerber face down? Sold.