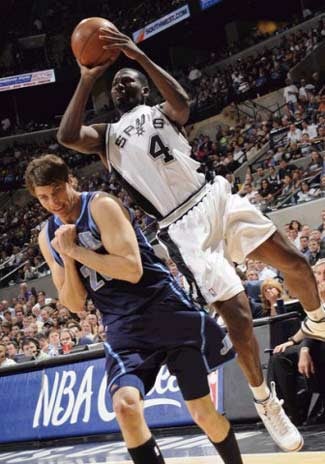 The NBA Closer is written by Matt McHale, who's "resting his starters" today. So you can find him stretching and doing some light jogging at Basketbawful. Enjoy!

They ain't dead yet! Apparently, rumors of San Antonio's demise were greatly exaggerated, because the Spurs pulled an "Ivan Drago versus Apollo Creed" on the Jazz, beating them 109-80 behind Tony Parker's 24 points and 12 assists. San Antonio clinched the third seed and a first round meeting with the Phoenix Suns, while the Jazz will play the Rockets. Unfortunately for Utah, they may have the higher seed (4th) because they're the Northwest Division champions, but the Rockets have more wins (55 to 54), which means the Jazz won't have homecourt advantage. Did I mention they suck on the road? Uh oh.
"I know how it feels, kid." Remember how Jason Kidd got robbed of the MVP back in 2002? Well, misery loves company, so J-Kidd blistered Chris Paul with his 100th triple-double — 27 points, 10 rebounds, 10 assists — to officially (if it weren't official already) knock the young fella out of MVP contention. Jason Terry scored 30 and Josh Howard added 19, and the Mavericks moseyed to a 111-98 victory over the Hornets. Turns out this was a playoff preview, since Dallas used the win to clinch the West's seventh seed and a first round appointment with New Orleans. And Dirk Nowitzki made no bones about which team the Mavs didn't want to play in the first round. "This was definitely a win we wanted to get. The Lakers are probably the hottest team in the West. We definitely didn't want to face them in the first round ... (New Orleans) had a great year, but I think we match up pretty well." And that's what we call "bulletin board material."

Next stop: First round exit, Part I. The Houston Rockets won a 93-75 showdown with the Los Angeles Clippers and thereby earned the right to lose to the Utah Jazz in the first round for the second straight season. It's deja vu all over again. It's deja vu all over again. Luis Scola presided over the mercy killing with 22 and 10. Elton Brand finished his comeback tour with 18 points and 12 rebounds.

Next stop: First round exit, Part II. The Denver Nuggets bitchslapped the Memphis Grizzlies 120-111 in what will probably be their last happy moment of the season. Allen Iverson scored 21 and Carmelo Anthony stayed off the juice long enough to add 17. Memphis got 19 points and 13 rebounds from Andre Brown and a mind-boggling 12 trillion from Kwame "The Human Telephone Pole" Brown.

The definition of "meaningless." Thanks to San Antonio's victory over Utah, the Suns couldn't do any better than the sixth seed, so Mike D'Antoni didn't even try. And Phoenix won anyway. D'Antoni used his starters for the first time all season and the Suns beat the Blazers, 100-91. Gordan Giricek paced Phoenix with 17 points and 9 rebounds, while Sean Marks played what I'm going to guess (without even looking up) was his first game of the season and added a double-double (16 points, 13 rebounds). Travis Outlaw had 24 and 12 for Portland.

Another of life's great mysteries solved. Ever wonder whether Detroit's bench was better than Cleveland's bench? Then wonder no more, my friend. Wonder no more. The Pistons' starters played only 12 minutes apiece, LeBron James and Zydrunas Ilgauskas didn't play at all, and the crowd at Quicken Loans Arena was treated to an epic clash of titans ... if you can actually call Arron Afflalo and Wally Szczerbiak "titans" without spitting up all over your keyboard. Afflalo led five Piston reserves in double-figures with 15, which trumped Szczerbiak's best game as a Cavalier (18 points, 5 rebounds). Okay, fine. We all know this game was meaningless. Said Chauncey Billups: "The real season is about to start." (P.S. Did you know you'd been following a fake season? It's true. Chauncey said so.)

Stan Van Gundy wants to win, man. The Wizards rested Gilbert Arenas, Caron Butler and Antawn Jamison, but Stan the Man played his big guns just long enough to get the game going the Magic's way before letting J.J. Redick take them home with a career-high 18 points. Orlando's Marcin Gortat — hey, wasn't that the name of the evil wizard in Wizards & Warriors? — also reached a career-high with 12 points and 11 rebounds. Washington's Andray Blatch had 20 points and 11 rebounds, but he would have had to score 41 to avoid the 103-83 loss. To explain why he played Dwight Howard only 12 minutes and then yanked both Hedo Turkoglu and Rashard Lewis at halftime, Van Gundy said: "We wanted to obviously limit the minuted of some of our main guys and get a lot of minutes for some of the other guys." Well, obviously.

Goodbye, Zeke. It's been...well, it's just been. If there's any logic in this universe, then Isiah Thomas has coached the New York Knicks for the last time. And of course that last time was a loss, in this case a 132-123 setback to the Indiana Pacers in which Mike Dunleavy Jr. lit the Knicks up for a career-high-tying 36 points. It was the third time this season that Funleavy tied his career-high against New York. He's better now, but still...when Mike Dunleavy Jr. totally owns you, that's a very bad sign. Despite matching the worst record in team history, Jamal Crawford wants Isiah back. "Everybody here likes coach Thomas a lot. He brought everybody here personally, so there's a certain loyalty to him and I always put in perspective with Doc Rivers. Last year, they (Boston) won 15, 16 games (actually 24) and everybody wanted him fired. This year, he's up for coach of the year. It helps to get Kevin Garnett no question, but Doc's done a good job managing down there, so hopefully we can have the same effect here." Sure, Jamal. Just as soon as Donnie Walsh trades for Kevin Garnett...

Reverse momentum. Thanks to a 115-109 loss to the Charlotte Bobcats, the Philadelphia 76ers will head into the postseason on a four-game losing streak. And that's sort of the opposite of momentum, right? But Philly coach Maurice Cheeks is trying to stay focused. "We did not want to lose four consecutive games. But now this is a new season. Now we get to prepare for the Detroit Pistons and get ourselves goin back the way we were." So you're going to get your momentum back against ... the Pistons? Good luck with that Maurice. Willie Green led the Sixers with 27 points, and Jason Richardson had 29 for the Bobcats.

Bang! Zok! Powe! The Celtics' Big Three did a couple victory laps before letting Leon Powe (career-high 27 points and 11 rebounds) and the rest of their subs administer a 105-94 beating to the New Jersey Nets. The only bad news in Beantown is that Danny Ainge was taken to the hospital to treat what doctors are describing as a "season-long erection." Richard Jefferson scored 24 for the Nets.

Next stop: First round exit, Part III. The Atlanta Hawks prepped for their first round date with doom with a 14-point loss to the Washington Generals Miami Heat. And they weren't even resting their starters. Joe Johnson, Mike Bibby, Al Horford, Marvin Williams and Josh Smith all played around 30 minutes in the spirit-crushing defeat. Meanwhile, the Heat had seven players in double-figures — led by Jason Williams (17), Mark Blount (16), and Ricky Davis (15) — and barely avoided becoming the worst team in franchise history by posting their 15th win of the season.

It's the end of the Larry Krystkowiak era as we know it. Minnesota got 32 points from Randy Foye and double-doubles from Ryan Gomes (17 points, 10 rebounds) and Al Jefferson (13 points, 11 rebounds), and the Timberwolves defeated the Bucks in overtime, 110-101. "Razor" Ramon Sessions had 25 points and 14 assists for Milwaukee, and Andrew Bogut finished with 24 points and 15 rebounds. In the end, all Krystkowiak could do was wax philosophic about how badly his team sucks. "It stings. It is a negative exclamation point on the season. It would have been nice to walk out of here with a smile, but such is life." After this season, poor Larry may never smile again.

Hey, Ben Gordon. How's was that jagged pill? Said Gordon: "It's very bitter. It's just tough to swallow." And that's how most Bulls fans feel after watching their team go 33-49 during a season in which many experts had picked them to reach the NBA Finals. But at least they won their final game, downing the Raptors 107-97 behind Ty Thomas' 26 points and Aaron Grey's 19 points and 22 rebounds. T.J. Ford had 18 for Toronto.

Okay, okay. He's Rookie of the Year. Kevin Durant had a career-high in points (42) and rebounds (13) as the Sonics (possibly) ended their existence with a 126-121 win over the Golden State Warriors. Kid's good. Kid's real good. Andris Biedrins had 20 and 17 for the Warriors. Golden State may be out of the playoffs, but they did get one consolation prize: They're the first team in 17 years to have three players average 20 points per game: Baron Davis scored 21.8, Monta Ellis put in 20.2, and Stephen Jackson had 20.1 per game. Oddly enough, the Warriors were also the last team to do it back in 1990-91, when Chris Mullin (25.7), Mitch Richmond (23.9) and Tim Hardaway (22.9) were playing Nellie Ball. Dismissed as coincidence.