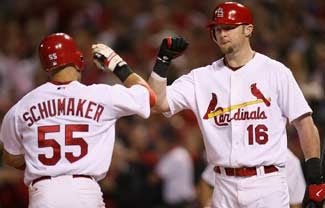 We know we're being idiots even discussing this, but we might not have the opportunity to point it out much longer: Our Cardinals are in first place and playing their asses off.
They've got an afternoon game today that we surely just jinxed, but any Cardinals fan paying attention — and based on attendance figures so far, there are fewer than there have been the last few years, a little chip in our self-congratulatory Best Fans In Baseball armor — has already noticed this team is a different beast that we've become accustomed to. None of those late-in-life ugly "veterans" that Tony LaRussa is addicted to, no Tony Womack, no Jeff Fassero, no Jason Christensen. It's a bunch of young guys with names like Skip, and Rico, and Ryan who keep scrapping out wins. The team looks alive; it looks like it cares. That hasn't been the case, really, since 2004, and that includes the World Series winner in 2006. Last night good ole Rick ended a 17-pitch at-bat with a walk. Jim Edmonds would have gotten bored around pitch nine and just grounded to second.
We know this will cause Kyle Lohse to get hammered today — he's 2-0 with a 1.04 ERA! Kyle Lohse! — and that this cannot last. But right now, two weeks into the season, a Cardinals team we were just hoping wouldn't embarrass us has the best record in baseball. Forgive us, but we had no choice but to note the occurrence. Admit it: You're impressed we lasted this long.
Making It Last [Viva El Birdos]
(Photo via the St. Louis Post-Dispatch)