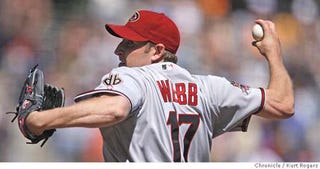 That sonic boom you heard in San Francisco on Wednesday was caused by pitchers Brandon Webb and Barry Zito. The former Cy Young winners are moving so quickly in opposite directions that the rapid heating and expansion of air has created enough pressure to cause explosive sound waves in China Basin. Webb (4-0) allowed one run on three hits through eight innings in the Diamondbacks' 4-1 win over the Giants. Zito (0-4) lasted six innings, and is now 11-17 since signing for $126 million as a free agent in 2006. That other loud sound you hear is Giants owner Peter Magowan banging his head on his desk, which he will be doing repeatedly until Zito's contract runs out in 2014.
But back to the Snakes. If there is one team that has the potential to wrap up its division race by June, it's the Diamondbacks. At 11-4, they're three up on second-place San Diego, the largest margin in the majors. Webb — the only four-game winner in the majors — was brilliant (I was there; and even though seated pretty far away, that sinker is impressive). Giants' hitting coach Carney Lansford: "He's a good pitcher, but if you make him get his sinker up you can hit him. You have to execute your game plan and not chase so many pitches out of the zone. You just can't do that. You've got to be disciplined against a pitcher like that." And Lansford knows what he's talking about; he's one of only 12 players who has played in both the Major League World Series (1988, '89, '90) and the Little League World Series (1969). Webb had a two-run single for the Diamondbacks, and Eric Byrnes had a run-scoring double. To recap: Webb, 4-0, 1.86 ERA, 22 strikeouts, eight walks, 2008 salary: $5.5 million; Zito, 0-4, 4.50 ERA, eight strikeouts, nine walks. 2008 salary: $14.5 million.
• Anyone Aware That The Yankees Played The Red Sox? Alex Rodriguez hit his 522nd home run to pass Ted Williams and Willie McCovey for 15th place on the career list, as the Yankees beat the Red Sox 15-9. It was the most runs for the Yankees at home vs. the Red Sox since 1954, and took 4 hours, 8 minutes to complete. New York outhit Boston 16-14. Here are the rest of the gory details, or just tune in to ESPN, which is still talking about it.
• This Meeting Of The Gil Meche Fan Club Will Come To Order. Freakin' Royals. Gil Meche got his first win, 3-2 over the Angels, as KC remained a half-game behind first-place Chicago in the Central. Billy Butler and Alex Gordon had run-scoring singles in the first, and Joey Gathright scored on Jered Weaver's error in the second.
• Orare Pro Me Ad Dominum Deum Nostrum. Amen. Cardinals win! Oh sorry, not those Cardinals. (Bishops?) Anyway, while the Pope was watching the Mets beat the Nationals 5-2 in D.C. (you couldn't drag him away from the chili nachos on the concourse level), Adam Wainwright proved that he, too was infallible. Wainwright went seven-plus innings and homered as St. Louis topped Milwaukee 5-4. CORRECTION: The Pope was at Nationals Stadium; the game was at Shea. He still went crazy with the nacho cheese pump.
• The Bridge To C.C. Sabathia. Edgar Renteria had a grand slam and Miguel Cabrera homered and had five RBI as the Tigers won their third straight, 13-2 over Cleveland and starter C.C. Sabathia. Good thing I didn't write them off or anything.