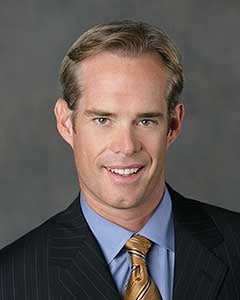 Super-popular sports talking head Joe Buck is known for his baseball announcing, his self-effacing beer commercials, his disgust of pantomimed mooning, and for his affable Midwestern charm.
Now, Buck is giving back to local kids "in need" by once again hosting the"Joe Buck Celebrity Back 2 School Spelling Bee" at the Pageant theater in St. Louis on May 8th. Yes, for $76 (76 fucking dollars) you could spend a warm spring evening watching these "celebrities" spell: ERIC BREWER, JULIE BUCK, KAREN FOSS, RALPH BUTLER, SHIMMY GRAY MILLER, COURTNEY COOPER.
What, was Will Leitch not available? (Ed. Note: He is! He is! Call us, Joe!) One, for the fact that the Pageant, which seemingly books some pretty cool events (tickets for Wilco, the New Pornographers, various hip-hop shows are also available) will have Joe Buck hosting this very costly event for a noble cause, presumably to a half-empty arena. I'm sure his heart is in the right place for this, but you're telling me that Buck doesn't have enough pull to bring some celebrities (you know, besides his sister) to this event? At least he had Ozzie Smith last year.
And for $76, that Spelling Bee better feature Shimmy Gray Miller and Courtney Cooper juggling flaming kittens or having a dildo fight.
But altruistic Midwesterners, you can get your tickets here.
2007 Kidsmart Celebrity Spelling Bee [Flickr]