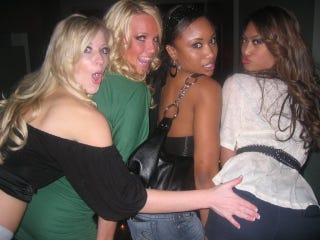 Here are some more not-so-revealing photos of an NBA dance team, courtesy of internet rapscallion Don Chavez, who pulled these pictures of the Sixers dance team acting like an ample-bosomed professional dance team out at a bar, from some unsuspecting member's Webshots album. The significance of this picture is two-fold: the Sixers dance team would most likely not receive any attention from the roving eyes of the internet unless they are a playoff team. They are. New GM Ed Stefanski's a genius.
Also? Let's not forget that the Sixers dance team also made the Final Four of the NBA 2008 Dance Team Bracket, losing out to the eventual champions, the Miami Heat dancers. (The Miami Heat dancers are like the Yankees of NBA dance teams. )
So, for the Sixers dance team, a pack of girls that lack the high-priced talent, recruitment pool and aesthetic enhancement of those teams from LA and Miami to make it that far, it is truly a wonderful achivement. They're like the George Mason of NBA dance teams. Once again, new GM Ed Stefanski deserves all the credit.
Bring it On: Sixers Cheerleaders LIke Booze [Don Chavez]