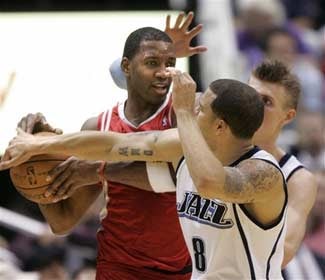 We're looking at every NBA Playoff series through the eyes of both Free Darko and Basket Bawful. Here's Free Darko's look at the New Orleans Hornets-Dallas Mavericks series. Your author is Dr. LawyerIndianChief.
MESSAGE TO GOD: Please let the tears stop from streaming down my face. Yahwe, I can't believe you're going to put me through this again. You're going to make me watch another soggy first round Tracy McGrady playoff defeat? And with all the tension brought on by the fact that the Jazz can't win on the road, inevitably making this a seven-game series? Jesus, joy of man's desiring, why could you not have simply booted the Rockets from the playoff race altogether back in January, making way for the Golden State freakfest, or at least the Portland Trailblazers? Instead you we will endure a week and a half of a slow, slow cockpunch, leading us all to grimace in unison when McGrady finally steps off that EnergySolutions hard timber back into the locker-room, and back into the cove of shame.
Look, back when I didn't know Carl Landry from Kyle Lowry, I had the Rockets picked to destroy everybody this year and wrap up the Larry O'B. The entire Clutch City squadron just screamed revenge crew. McGrady had endured a summer of mulling over his most agonizing playoff loss yet, the pain of which was overshadowed only by the far more devastating beatdown that Golden State put on Dirk & Co. Yao was ready to defend T-Mac's honor. Adelman was getting ready to crack the Maloof Brothers over the head with poolsticks. Mike James, Bonzi Wells, Steve Francis and Rafer Alston had all come off seasons where they were villainized worse than 1000 Starburys. This was finally Houston's year.
Then the Yao debacle happened, complete with underground dealings between Leslie L. Alexander, Kofi Annan and various members of Chinese Triad Societies. Then came the improbable 22-game win streak. Dikembe "age" jokes again made hit the daily news cycle, and then all of a sudden, various injuries and slumps miniaturized the Rockets back to a middling-to-good team that was now oddly stuck at the top of the standings. T-Mac would have been graciously forgiven had the Rockets slipped into lotteryland obscurity. But no, Deke had to guzzle some of that anti-aging Himalayan goji juice, Skip to My Lou had to turn into Mark Price and the Rox had to ship Bonzi and MJames to New Orleans for the much teamier Bobby Jackson. For four weeks. Is this all some cruel joke to place T-Mac back in first round purgatory?
Meanwhile, the Jazz have put together one of the most confounding seasons in recent memory. They struggled on the road, they somehow transformed Kyle Korver into a "keystone," they endured major sulkitude from AK-47 without trading him, they got 80+ games out of Carlos Boozer, and they watched Deron Williams turn into Aslan. Jerry Sloan is still the best coach in the league (six decades running), and Mehmet Okur's end of the year bitchslap to Fabricio Oberto suggests that Utah is to be taken seriously. But, again, there's the whole amazing at home/crappy road record thing. I don't get it. Home court advantage isn't supposed to mean anything in the NBA these days, but in Utah it's like white Freaknik. Maybe the reason is, more than anything else, the Jazz are Utah. The state's other claims to fame are lame, either as genuine emblems (e.g. Mitt Romney) or as stereotype-based jokes (e.g. Mormonism, hyuk!). When googling "Utah," the Jazz homepage shows up before the Utah Wikipedia entry. Whatever is going on there, it's working.
And so I envision a slow deathmarch for the Rockets. Every game in Houston will give them just enough hope to keep pushing, but EnergySolutions may as well be an S&M chamber of doom. Deron Williams is ready to create something bigger than himself. With all the KG/Kobe/LeBron/CP3 MVP chatter, the baddest play-the-right-way player in the league has to feel a little snubbed, and there is no better time to unleash his fury than on the playoff stage. We're talking 15 points and 20 assists per game, minimum.
On the other side of things, Houston's only hope is McGrady, and T-Mac's firepower alone will not be enough to get it done. As I drink from a bottle of Manischewitz, listening to Roy Orbison and pondering T-Mac's playoff struggles, I wonder if maybe McGrady has really made it after all. Perhaps, when with Orlando he famously, erroneously, and prematurely uttered, "It's great to finally make it to the second round," McGrady had advanced to glory in his mind, even though the Detroit Pistons actually won the series. McGrady does have 11 playoff wins in his career, and perhaps he has pieced each one together as victories a personal championship. Of course, his external demeanor tells a different story. In press conferences, be-trenchcoated, he chokes back tears, placing the burden of playoff failure on his back alone. But telling myself that T-Mac is, deep down really all right, is the only thing that I can do to stop my own tears from descending like primordial thundershowers.