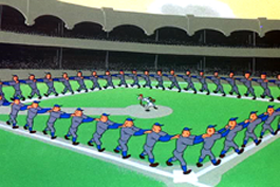 Some further fun facts about that two-inning, 66-0 Japanese high school baseball game we wrote about yesterday:
• If all the runs were earned, the pitcher had a 445.5 ERA for the game. But that's assuming that Japanese high school games go nine innings. Since several runs were most likely unearned, and assuming that Japanese high school baseball games typically go seven innings as they do in much of the U.S., the ERA was probably more like 324.0. That'll make it much easier to whittle it down to under 200.0 in his next start.
• Kawamoto Technical High School gave up 26 runs in the first and 40 runs in the second, when the game was called with only one out. This eclipses the record of 54 runs over three innings set by the Gashouse Gorillas vs. the Teatotallers at the Polo Grounds in 1946.
• No freaking relief pitchers in Japan?
• I'm wondering who made that one out in the second inning for the winning squad, Shunshukan High. Wouldn't it be funny if it was a strikeout? That guy would experience more enduring shame than anyone on the losing team.
The Japanese Don't Believe In Tommy John Surgery [Deadspin]
Bugs Bunny, Greatest Banned Player Ever [U.S.S. Mariner]