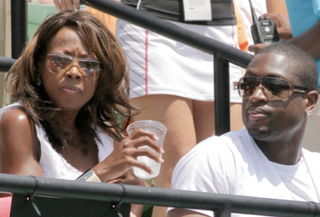 Chances are this isn't even remotely close to being true, but it's so preposterous and gross that it's at least somewhat amusing. The always reliable gossip site Mediatakeout is reporting that Miami Heat's injured forward Dwyane Wade is (blecch) now (plettch) dating (claggh) the saggy old remains of Star Jones (barf). Sports By Brooks is cautiously suspicious of this report, but here's what Mediatakeout has to say about it:
According to a person affiliated with the Miami Heat organization, Star Jones has been picking up Dwayne after most of their recent home games. The insider told MediaTakeOut.com, "[Dwayne's] teammates are even joking around with him about it. They say he has to watch his back - cause Al's gonna get him."
Pat Riley should really learn to keep his mouth shut and mind his own business.
G.W.H.T.I.T.: Dwyane Wade Is Dating Star Jones? [Sports By Brooks]

(Photo: Gliteratti Gossip)