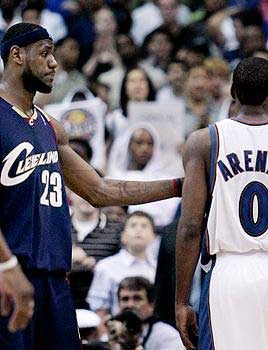 We're looking at every NBA Playoff series through the eyes of both Free Darko and Basket Bawful. Here's Free Darko's look at the Cleveland Cavaliers-Washington Wizards series. Your author is Bethlehem Shoals.
Technically, this is the third year in a row that the Wizards and Cavs have met in the first round. In 2006, LeBron reminded us that he could do no wrong, even as he tackled the playoffs for the first time. But Gilbert Arenas refused to back down, matching James's iron-wrought majesty with fiery whim. Cleveland won in 6, and James marched on, but it was this series that put Arenas on the map.
For 2007, the sham police were out in full force. Arenas went down with a knee injury toward season's end; to add insult to injury, Caron Butler came up lame, too. The once-proud Wizards became the team everyone wanted in round one, and Cleveland got them. The sweep came easy, and James's play was strong, if somewhat perfunctory. Gil tried in vain to spice things up by chirping loud from the bench, but Biz LeBron was in no mood. Last year had come down to playground tactics, with James whispering in Gil's ear right before he clanked out the game-winning free throws in OT. This time, it was beneath him to trifle.
So now, we head into another installment of the most disjointed, unmentionable rivalry in all of pro sports. Gil missed the entire season with that same bum knee, but now may or may not be ready to step up and star again. No one, not even, Arenas himself, seems certain of his condition. Is he available in spurts? Poised to take up the Barbosa-like mantle of zany instant offense? Or, heaven forbid, will he take his rightful place in the starting lineup by the second game? He's announced his plans to be more of a distributor, but in his few games back it's his scoring that's truly dazzled.
Why all the recap? Because these two teams are perfectly situated to fight each other for years. James and Arenas are two of the most natural-born rivals in the entire league: One entitled, god-like, and barely human, the other a first-class underdog determined to keep himself always fighting the odds. And against James, he — or anyone — will always come up imperfect and strange. But somehow, this feels like a strange coincidence, like seeing two people in one day who bought the same glasses as you. The NBA deserves better than this and indeed, all players involved deserve more.
We routinely say that THIS IS A LEAGUE OF STARS. You can keep your Zydrunas/Haywood matchup, your "worst game coach showdown," and even DeShawn Stevenson's endless rants and raves. I know LeBron thinks it's about him to respond too much, and Gil is mostly focused on working his way back home, but come on. One of you will win this series, but that's not all that's at stake. Look a little deeper, and Brand James took a hit last year — there was that one incandescent game about Detroit, but aside from that he was either rote or unseen. And that Finals debacle has been erased from our collective memory in the sole interest of preserving the world economy, which relies so heavily on LeBron's future worth.
And Gil, my man, this is your moment. Push Stevenson over to the side; his yapping is unsubtle and artless. Last year, you had no problem talking shit while laid up in a suit. You want a challenge? You want to show that you belong up there with LeBron, Wade or Kobe? After 2006, you were getting there; through no fault of your own, that path was lost. But what could be more classically Arenas-ian than taking this series on your back from the get-go? Let Caron and Antawn get theirs; honor what the team has accomplished without you. But for reals, this feels like it was scripted for you to thrive.
In spirit of 2006, from the ashes of 2007, across a landscape of resignation and incidental associations, it's time that LeBron and Arenas recognize that this isn't some fluke. They are both at defining moments in their careers, and like it or not, they need each other. By revisiting the past, they can renew themselves for the future. Let's recapture that LeBron we didn't take for granted. That Arenas whose insanity was matched only by his will. Without this, yeah, it's two Eastern teams, one of which features LeBron. But if we embrace the past here, instead of dismissing it as muddle, this series has the potential to revitalize two of the NBA's most charismatic figures.
Let the West, or the Celtics, worry about the L.O.B. The playoffs are about that, but it's also where reputations come into being. This is two guys returning to their roots, whether they realize it or not. Here's hoping they deliver unto us a real clash of civilizations.