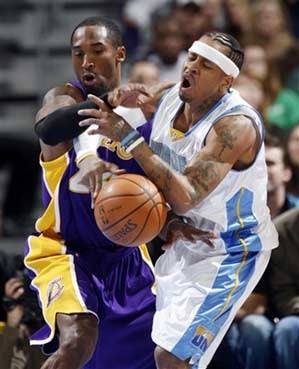 We're looking at every NBA Playoff series through the eyes of both Free Darko and Basket Bawful. Here's Free Darko's look at the Los Angeles Lakers-Denver Nuggets series. Your author is Bethlehem Shoals.
Congratulations, Denver. Every novel needs a character after which no kid shall ever be named; every reality show needs an agitator. This year, you narrowly edged out Golden State for the right to represent the crazed and unruly in the all-too-regal Western Conference playoffs.
The real bummer is that it doesn't have to be like this. Have you looked at your roster lately? Allen Iverson's flaws have receded with age, and he's now just an unspeakably quick, team-friendly guard who would rather die than lose. Carmelo Anthony — who, in a truly history-making move, became the first person ever to operate a vehicle under the influence — scores efficiently, has upped his rebounding and could take anyone in a no-holds-barred grin-off. Marcus Camby was last year's Defensive Player of the Year, Kenyon Martin has fully recovered from two years in microfracture exile and does good works at both ends of the floor. Nene lost a nut and still wants to give it his all. Najera has enough nuts for us all. Even J.R. Smith, once so cancerous that he was traded twice in one week, plays D and has learned to tell when he's not on a hot streak.
This is the talent level of a contender. These are players who, despite their problematic pasts, are all great people now who regularly babysit my otter collection. Golden State was a boom-or-bust experiment, a nothing gained, nothing lost exercise in Don Nelson's inherent weirdness. The Nuggets, on the other hand, should be steadily winning, with some nights where they look elite. At very least, they should be that. Instead, they're a neurotic mess that's taken Smith as a spirit animal of sorts. They only thrive when they surrender to the utter chaos that's dogged them so — even as they've got the raw materials to assemble an ode to competence.
I come here not to assign blame, but to weep. I'd like to see Iverson make one last run. Melo is a very good basketball player who deserves mainstream respect. This team has people who like to rebound and, in their own way, defend. Even George Karl, the scapegoat of choice, has been a successful NBA coach. He's a little batty, but could you imagine Larry Brown trying to helm this bunch?
If Denver somehow caught fire — and, as the resident crazies, they reserve the right to do so — the Lakers could have a series on their hands. Still, as exciting as that might be, it would still feel like a team reduced to playing the holy fool. These guys deserve better, damn it.
The Lakers, by contrast, are pure basketball this year. Last fall, it was nearly unthinkable that a Kobe/Phil joint would enter the postseason with not a scrap of psychology in sight. Lamar Odom doesn't even seem particularly haunted these days. All we want to know is what will happen with Andrew Bynum, whose return would suddenly hand the West's top team an ridiculously athletic, increasingly savvy, seven-foot star-in-the-making. And worst case scenario, Bynum comes off the bench, or plays limited minutes. These are purely technical matters, as opposed to the Nuggets' internal struggles of the heart. For that alone, Kobe deserves the MVP, or some kind of award: The league's most difficult personality, or at least its most complicated, has reduced himself to nothing but playing ball well and winning tons of games.
Will the Nuggets look at the Lakers and think "this could be us?" Multiple stars, strong role players and that Kobe/Iverson dichotomy that really doesn't get talked about much anymore (maybe because it's ceased to exist?). A Nuggets team skirting the edge of good taste could take this series six or seven games, but it won't be without its pathos. This would be success at its most empty. The Nuggets are the jesters of this postseason, all the more so because, unlike those rascally Hawks, they could aspire to so much more.