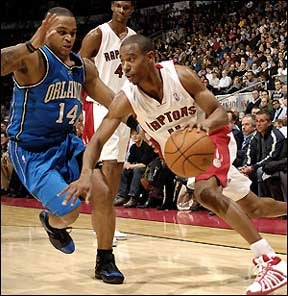 We're looking at every NBA Playoff series through the eyes of both Free Darko and Basket Bawful. Here's Free Darko's look at the Toronto Raptors-Orlando Magic series. Your author is Dr. LawyerIndianChief.
On the surface, Raptors versus Magic is limited in flash, intrigue and sex appeal, as it pits two teams that were founded less than 20 years ago against each other. Neither of the teams are rich in history, neither has ever won a championship nor put a player in the Hall of Fame (Olajuwon doesn't count!). Both teams will inevitably be stomped in the next round by the Detroit Pistons. Save for Dwight Howard's dunk contest appearance, none of these teams made headlines for anything significant this year (not even for ill business like somebody shooting a gun into the sky). Oh, and both teams started off the season looking much better but then kind of fizzled out in March and April, even in the flaccid Eastern Conference,
And nonetheless, I could not be more thrilled. Jose Calderon! Hedo Turkoglu! Anthony Parker! International fireworks and the greatest interborder battle since the war over Canada's dirt-cheap prescription drugs. What gives me cause for so much zeal and fervor surrounding this series, you might ask? Well, allow me to break down this series with 100 "games within the games" (if you will) that you'll want to watch intently:
100. Sam Mitchell vs. Stan Van Gundy. A battle of coaches who can completely lose their shit at any moment. To me, Sam Mitchell will forever be the man because not only did he actually challenge one of his players (his star player, Vince Carter) to a fight; but because he kept his job after doing so and the player got shipped off elsewhere! Seriously, that is some modern day Leo Durocher/Billy Martin shit. One of the highly underrated moments of badassedness during the more-conservative-by-the-day David Stern era. Van Gundy, on the other hand, came into this season looking like he had a vendetta against the entire league for how dirty he was done in Miami. The guy even started throwing shots back in South Beach's direction. Also, I thought it was pretty cool that he called out Dwight Howard for defensive issues and his zero playoff wins. Basically, I'm just waiting for something to piss either Mitchell or SVG off tremendously.
99. Chris Bosh vs. Dwight Howard. This one is straight Redwoods versus Evergreens, and as fun as it will be to watch the sinewy Bosh weave in and out of God's Son's grasp, this series belongs to Howard. I'm ready to see D-Ho put up Shaq-in-his-prime type numbers and the YouTube search servers to be all jammed up with requests for "Rasho Nesterovic's grill."
98. Raptor vs. Stuff the Magic Dragon. Battle of the Marketing Departments Round 1. Both the Raptors' staff and the Magic's staff have curious views about the use of creativity in mascot naming. Raptor is on some "here it is fuck you" Shellac shit whereas "Stuff" incorporates punnery, Disney sponsorship, basketball references, and Peter, Paul, & Mary into an acid trip gone awry. Score 1 for Toronto's peoples.
97. The clash of horrendous color-centric playoff slogans in Battle of the Marketing Departments Round 2: Are you Red-y?" vs. "Blue and White Ignite." I didn't think it could be done, but the Magic's marketing department knotted this thing up at 1-1. We'll have to keep an eye on what type of faux Terrible Towel cloth these teams' fans get their hands on.
96. Awful hometown bands that could potentially sit courtside: Barenaked Ladies vs. O-Town. With all the crap tweeny music that Orlando has generated over the last decade, Toronto is winning this one in a landslide. Plus, when it comes to music in general, the T-Dot is at least responsible for Saukrates and South Rakkas crew.
95. T.J. Ford vs. Jameer Nelson. Dwarf toss.
Ok, I give up. I've pined over statistics, news columns, Wikipedia entries and blogs for the past three hours and, I admit it, this series has all the intrigue of a Little House on the Prairie marathon. The only insight I have left is that the lower tier of Orlando's bench sounds like a cast of characters from a high-powered Western:
James Augustine
Pat Garrity
Bo Outlaw
Marcin Gortat (the obligatory El Paso compadre)
I'm really hoping that a fight breaks out or Andrea Bargnani starts humping the floor or Scott Skiles comes back from the grave to suit up for the Magic. Hey, these series' can't all be Michelangelos. Sometimes the events of this crazy league simply don't fall into place properly, and we're stuck with a sculpture of a plastic heart. Lord knows I'll be watching every minute regardless.