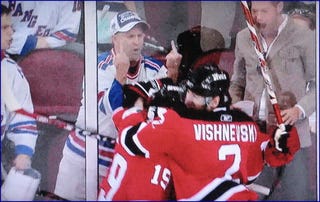 It's nice to see the NHL Playoffs' first round is filled with good-natured competitiveness. Certainly this is epitomized by the New York Rangers and New Jersey Devils — neighbors! — playing to a 5-3 Rangers victory, knocking the Devils out of the playoffs. And all Rangers fans can certainly appreciate the good challenge they were given in this debut round.
Two years ago, the Rangers got swept out of the postseason by their Deviled foes, and their revenge came in New Jersey despite the Devils scoring a goal off one of the Rangers' faces (video?). The Devils got their last laugh by ... having their goalie not shaking Sean Avery's hand. Oh ... snap?
"I shook everyone's hand, everyone but one," Brodeur said without mentioning Avery by name. "I don't care how he feels about it."
He actually sobbed about it and wrote about it in his diary later, you heartless cur.
I'm sure they'll patch things up by the next time they play.
Marty Brodeur: No Shake For Sean Avery [NY Daily News]
(Screengrabbery via The Sports Hernia)