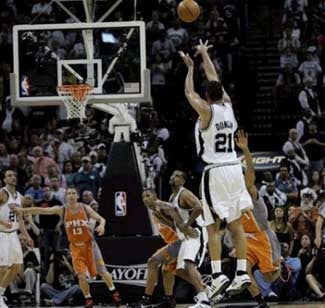 The NBA Closer is written by Matt McHale, who's freaking excited about the freaking playoffs. So if you hear about him doing anything else at any time, it wasn't really him. Unless he's talking about beersomnia and bad movies at Basketbawful. Enjoy!



Tim Duncan was legen...wait for it...dary. Timmy showed once again that he just lies in wait during the regular season, saving his best stuff for the playoffs. Duncan scored 40 points, connected on 16 of his 24 shots, snatched 15 rebounds, and hit his first three-pointer of the season to tie the game and send it into a second overtime. And that's when the Spurs finally outlasted the Suns 117-115 in what may end up being the best game of this or any other first round series.
Phoenix led for most of the game and seemed to be in control of things midway through the fourth quarter when Gregg Popovich went to the old Hack-A-Shaq strategy. Sure enough, The Big Brick missed both free throws and got yanked from the game. Could you call the move cheesy and pathetic? Sure. But the Spurs call it championship basketball. And it worked. With Shaq on the bench, San Antonio came back to take their first lead of the game. But the Suns maintained their composure and had a 3-point lead in the closing seconds before Michael Finley tied it with a clutch three-ball. Then it was on to overtime, where the Suns still seemed destined to win — despite the fact that Amare Stoudemire (33 points, 7 rebounds) fouled out — until Duncan hit his own clutch three to tie things up again. (And trust me: That was exactly the shot Phoenix wanted San Antonio to take in that situation.)



The Spurs were holding onto their own three-point lead late in the second overtime when Steve Nash (24 points, 13 assists) hit a corner three while almost falling out of bounds to tie the game at 115. But then Manu Ginobili (24 points) took it to the rack and scored the go-ahead basket with less than two seconds left. The Suns were out of timeouts, and Nash's three-quarters court heave was off the mark.



Memo to the Locksmith: Stop tugging on Superman's cape. After watching LeBron James score 20 of his 32 points in the second half, DeShawn Stevenson's swag reserves were running pretty low. And, not surprisingly, the words "overrated" didn't cross his lips a second time. "The talking is over. I didn't say anything to him and he didn't say anything to me. The series has already started. We don't need to talk. We all know what's in the air. I said what I had to say. He (James) is a good player. I do what I can to get under his skin, on and off the court."



Turn's out King James has pretty thick skin. And so do the rest of the Cavs, who responded to Agent Zero's "everybody wants Cleveland in that first round" challenge by beating the Wizards 93-86 to take a 1-0 series lead. LeBron got a little help from friends Zydrunas Ilgauskas (22 points, 11 rebounds), Delonte West (16 points, 5 assists) and Boobie Gibson (11 points off the bench). And then James stuck his own non-trash talk dagger into Washington's back. "93-86 is the only words I need to say."



Gilbert Arenas scored 24 for Washington before fouling out. Antawn Jamison had 23 points and 19 rebounds, and Brendan Haywood added 15 and 10. Stevenson, for all his ballsy bluster, scored only 3 points on 1-for-9 shooting.



Hey, Dirk. You still like this matchup? Chris Paul rocked his first-ever playoff game- - 35 points, 10 assists, 4 steals — and the New Orleans Hornets made Dirk Nowitzki eat his words by beating Dallas in Game 1 by the score of 104-92. Paul scored 15 of those points in the third quarter to help his team overcome a 12-point deficit and take control of the game for good. But Nowitzki — who inexplicably went all "tough guy" on David West — isn't worried. Or at least he's pretending not to be. "It's one game. The team that loses has to go back, adjust and find ways to get it done the next game." Suuuuure, Dirk. Hey, how's that worked out for you the last two years?



Thet Hornets also got strong games from West (23 points, 8 rebounds), Tyson Chandler (10 points, 15 rebounds) and Peja Stojakovic (14 points, 4-for-8 from three-point range). Herr Nowitzki had a double-double (31 points, 10 boards), Josh Howard scored 17, and Jason Kidd almost had a triple-double (11 points, 9 rebounds, 9 assists) when he wasn't getting lit up by CP3.



We don't need no stinking home court advantage! That whole "they can't win on the road" thing didn't phase the Utah Jazz, who stormed the Rockets' house, pooped in the refrigerator, ate the whole wheel of cheese, and won the first game of the series 93-82. Deron Williams (20 points, 10 assists) and Carlos Boozer (20 points, 16 rebounds) got compared to John Stockton and Karl Malone about a dozen (or so) times, and Andre Kirilenko both scored (21 points, 8-for-12 from the field) and harrassed Tracy McGrady into a poor shooting night (7-for-21). And now the Jazz — who were an NBA-best 34-7 at home this season — have the homecourt advantage going their way. (Translation: T-Mac had better invest in some of those facial tissues with lotion; they won't leave his nose all dry and irritated.)



The Rockets — who were without starting point guard Rafer Alson (strained right hamstring) — got 22 points (7-for-7) from Shane Battier, 20 (along with 6 rebounds and 7 assists) from McGrady, and 14 (and 13 boards) from Luis Scola. But Bobby Jackson, who replaced Alston in the starting lineup, shot only 3-for-15, and none of Houston's reserves were able to make an impact off the bench. Said McGrady: "They've kind of taken away our first option and we're a little stagnated on the offensive end and don't know what else to do. We're all out of sync and we don't have too many guys out there who can create their own shot." Yep, that about covers it. Remember, Tracy: Get the Kleenex with lotion. Trust me on this one.