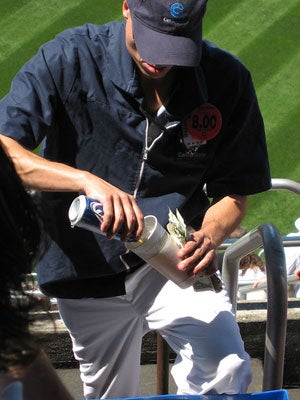 Reason #267 why San Diego is not in the running to host a Deadspin Pants Party: Their stadium beer doesn't get you drunk enough. A San Diego Union-Tribune EXCLUSIVE INVESTIGATION revealed that the $8.50 cup of beer — be it Budweiser, Miller, or Miller Lite ... Budweiser!, Miller! Millerliiii-ite ... Budweiser! Miller! Millerliiii-ite! — contains just 3.2 percent alcohol by weight.
See, your normal draft beer is usually 4% alcohol, while the light beer is typically 3.4% alc... aw hell, you probably already know this. You probably had the poster in your dorm room or fishing shanty. Consumer advocates are not amused:
"Wow, $8.50 for low-octane beer," said Michael Shames, a consumer advocate who heads the Utility Consumers' Action Network in San Diego. He compared the move to that of oil companies, which have been accused of reducing octane in gas.
Maybe it's the non-drinker in me, but this is pretty funny to see beer prices to up and alcoholic content go down. My idea of a perfect night? Watching my mortal enemy spend $27 for a bottle of what he thinks is beer, but is actually carbonated gravy. Oh, and then seeing him get kicked out by security for taking his pants off while sitting next to the girl scout troop that sold the most Samoans. There's a slight chance I don't actually have a conscience.
For It's 1, 2, 3.2 At The Old Ballgame [San Diego Union-Tribune]