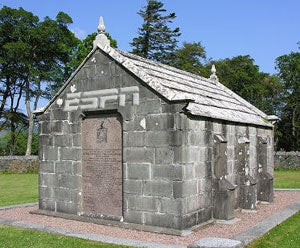 Picture, in your mind, a world without ESPN. No SportsCenter. No scrolling tickers. No Skip Bayless. Frightening, yes, but we're all adults here, and nothing created out of one's imagination is lethal. Now, take those feelings, and put them into words. Now send them to ESPN, because they'd like to collect all those hypothetical feelings. That's right. ESPN is holding a eulogy contest.
It appears that Farther Off The Wall caught wind of a circulated e-mail from ESPN Fan Zone, asking them about the macabre situation of an entire sports entertainment entity dying:
ESPN is always looking to better understand the emotional connection you, the fans, have with our brand. One great way to get at how much you love something is to imagine it's gone. So play along with us here:

Imagine that ESPN has passed away and you've been asked to deliver a eulogy at its funeral.

Click on the link below to submit your eulogy. Explain your relationship with ESPN, why you will miss it, your best memories of it, and perhaps its cause of death.
Cause of death? They want to know cause of death? Hey, wait! This is a trick. I've seen Fletch. They're trying to snuff out the conspiratorial faithful embedded within our very nation. They've been slow to get permits for those wiretaps, so they're flat out asking Le Resistance for their schematics. How very shrewd.
The wake will be hosted by the Around The Horn panelists, who will then argue about how ESPN's death really puts things in perspective.
Did You Have ESPN In The Death Pool? [Farther Off The Wall]