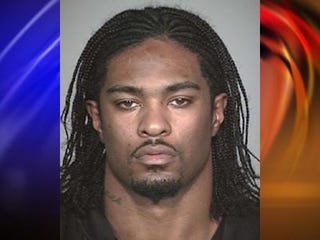 Colts backup running back Kenton Keith was arrested early Sunday morning for drunk and disorderly conduct and contributing to the delinquency of a minor after cops found him glassy-eyed and disrespectful outside of Cloud 9 nightclub in Indy.
An off-duty police officer bouncing at the club said Keith and a few other individuals were outside Club 9 about 3 a.m., leaning on cars, dancing and not leaving the parking lot when they were told to. According to the police report, Keith resisted arrest and "would not be quiet. He kept hollering he was a Colts player, that he wasn't doing nothing wrong, that he would leave when he got ready."
Writer David J. Warner at AOL Fanhouse wildly speculates that Keith may be the victim of some sort of racism from the Indianapolis police department even though Keith was, you know, breaking the law.
Unlike last year's backup Colts running back, Dominic Rhodes, Keith did not urinate all over himself, which may save him from being picked up by the Raiders in 2009.
Police Arrest Colts Running Back Outside Night Club [The Indy Channel]