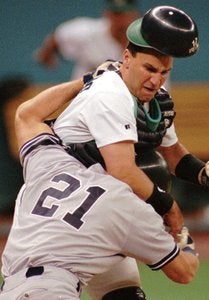 Over the weekend, some sad news out of Philly, as MLB.com broadcaster John Marzano was found dead in his home at the age of 45. Details are a little sketchy at this point, but it appears Marzano either had a heart attack or fell down the stairs.
Marzano was a backup major league catcher for 10 seasons, then became a local radio personality and a sports analyst for Comcast and MLB.com, doing color and commentary for both organizations. He was a very smart, outgoing guy and was very generous with his time whenever you needed a good quote or an honest game-inside the game perspective.
The above photo was taken during a '96 Mariners-Yankees series where Marzano went at it with the Yankees Paul O'Neill. You can take the boy out of South Philly...
Funeral services for Marzano will be held this Friday.
Marzano Brought South Philly To The Game [Inquirer]