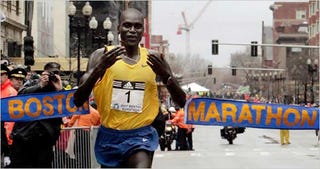 We're not enough of a Bostonite to understand that full drunken social significance of Patriots Day, but we assume we'll have a smaller Boston readership today; they're all out drinking like crazy and screaming for Kenyans to run faster. Difficult to argue with that.
Patriots Day is something we've always admired about Boston. You have to love a civic holiday in which everyone starts drinking at 10:30 a.m. (Simmons summed this up pretty well a few years ago.) It's an important enough day that the Dropkick Murphys have opened a bar in Boston ... today.
We have days like this in New York, full whole summer days when nobody works and just drinks the whole time. They're called "Fridays."
Idiot's Guide To The Boston Marathon [Sports Guy's World]
The Dropkick Murphys Will Now Sell You Beer [Red Sox Monster]