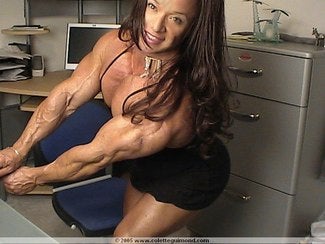 On Friday, Gawker received an email from the editor of femalemuscle.com, who is on the look out for a full-time blogger to take make "femalemuscle.com into the Gawker of her genre." Well, knowing that there are a few of you out there who are sports blog hobbyists looking to go pro, it only seemed natural that we pass it along. You can get the details over here.
After briefly scanning through some of the site's previous entries, it's obvious that some of you clever wordsmiths could do wonders with posts like "Asian Muscle Part Two" or "Pure Canadian Muscle: Autumn Rady"
And, maybe, if you're lucky you could branch out into some of the other sites, like "Shemuscle.com" and "Girlsgotlegs.com" , which are guaranteed to haunt your dreams for all eternity.
So, if you've been searching for that unique opportunity that would combine your love of blogging with your love of, oh, nude ladies with calve muscles the size of a baby's head, then this is perfect.
Editor Lori Braun says the perfect candidate will be able to churn out 5-6 posts per day, be creative, and can be of any particlar sexual orientation. She says you don't have to be a lesbian. It's not even preferred! In fact, most of the women who are featured on her site(s) are surprisingly straight as a ruler. So, straight hetero males interested in fitness and/or making fun remarks or just ogling sporty celebrities or females who have overly-defined musculature are welcome. (Paging, Christmas Ape...)
Interested parties should email editor Lori . Immediately.
WTF [Gawker]
(Photo: Shemuscle.com)