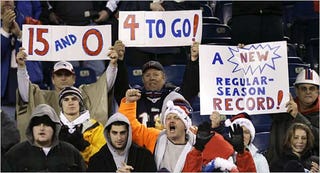 It's a grand sports capitalist tradition to trademark a team's or an individual's achievements. Pat Riley grabbed "Threepeat;" Dennis Green, displaying a self-awareness we wouldn't have anticipated, snatched up "They are who we thought they were." The New England Patriots were all over this last year, too, making a claim for "19-0." But, of course, they lost, so they dropped it. Wait: No they didn't.
The Smoking Gun reports that the Pats are still seeking the trademark on 19-0. We might have to go through all this crap again.
Three months after their bid for an undefeated season ended with a Super Bowl loss to the New York Giants, the New England Patriots are continuing to pursue trademarks on the phrases "19-0" and "19-0 The Perfect Season," records show. While the team may have been expected to withdraw its applications after finishing at 18-1, a Patriots lawyer recently amended the original filings to correct a typographical error, a clear indication that the organization remains committed to securing the marks (perhaps Bill Belichick & Co. are anticipating perfection in the 2008 season).
Meanwhile, our Buzzsaw are expected to seek "beer bong."
Patriots Still Pursuing Perfection [The Smoking Gun]