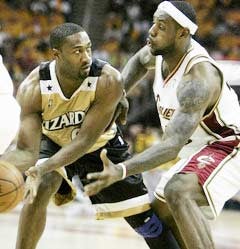 The playoffs tip back off tonight, and after a weekend that brought us an amazing Suns-Spurs game and that fun 76ers upset — which we have a feeling will be like a lower-grade version of that Sixers-Lakers Finals: One inspiring win followed by a sweep — we are treated to two doozies tonight.
In the later game, the Jazz try to seriously make Tracy McGrady cry by taking a 2-0 lead on the road in Houston. (Those Mormons sure do get feisty!)
But like most of you, we're still hoping for an epic Arenas-LeBron battle in the Cleveland-Washington series. Gilbert looks healthy enough to make this fun. Tonight, we'd all like to flee to the Cleve.