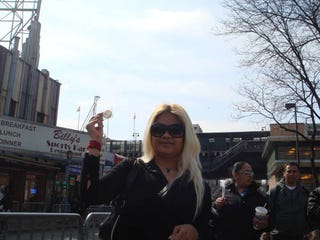 As many of you know, Pope Benedict the Magnificent XI was in New York on Sunday to celebrate mass at Yankee Stadium with 57,000 Bronx old ladies carrying plastic rosary beads. It went well, as all who attended were happy and blessed and there were no assasination attempts or extremely violent protests sparked by anti-Catholic fanatics or disgruntled altar boys.
The creative sword-rattlers at ANIMAL New York decided that the Pope's visit was a perfect opportunity to promote their magazine/website and decided to hire two odd looking ladies to distribute specially made "Popeylactic" condoms outside of Yankee Stadium to those hoping to catch a glimpse of the old guy in the funny looking hat.
If you're going to sin, you might as well be safe.