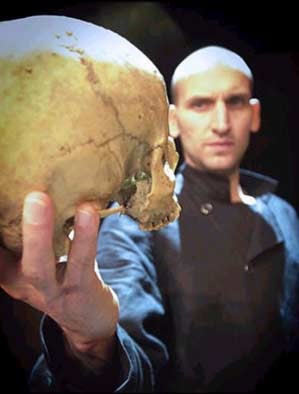 The NBA Closer is written by Matt McHale, who will never, ever forget McGrady's greatness in defeat. He's kind of like a 21st century Dominique Wilkins, if 'Nique had never made it out of the first round. When he's not praising T-Mac, he's probably making fun of him at Basketbawful. Enjoy!

He was the greatest player to never...well, you know. It seems kind of wrong to already be writing Tracy McGrady's eulogy. After all, the Rockets — thanks to last night's 90-84 home loss to the Jazz — are down only two games to none in their first-round, best-of-seven series. They could totally come back. All they have to do is win at least two games in Utah, where the Jazz were nearly unstoppable (37-4) during the regular season. That's all. [Danger, Will Robinson! Danger! Danger!]
Admist the wreckage of Houston's two-game deficit stands McGrady, one of the league's best through-three-quarters superstars, a guy who seems doomed destined to be remembered as the greatest player never to make it out of the first round. He had a great game — 23 points, 13 rebounds, 9 assists, 3 steals and 2 blocked shots — and Doug Collins repeatedly praised his brilliance while constantly reminding viewers that, should the Rockets lose this series, it won't be Tracy McGrady's fault. Yet T-Mac scored one point in the fourth quarter on 0-for-4 shooting. Mostly 'cause he was exhausted.

Said McGrady: "I had no legs. I was on empty. Banging with Matt Harpring, trying to rebound, trying to make plays for my team, trying to score, playing 43 minutes. That's a lot."

Yeah, it is. But still ... can you imagine Bird, or Jordan, or Magic, or hell, even LeBron or Kobe saying something like that? It's vintage McGrady: He did everything he could possibly do win, yet his team still fell a little bit short ... through no fault of his own. Just ask him.

Meanwhile, Utah continues to hand-feed all those "They can't win on the road" rumors to their critics. Deron Williams — despite a sore ass — had 22 points and 6 assists, the Turkish Assassin added 16 points and 16 boarded, and the rest of the Jazz continued to do what they do: Bump, bang, defend, pick, roll, and win. The mercy killing continues on Thursday on TNT.

Regret is a hard thing to live with. I wonder if DeShawn Stevenson is starting to realize that right about now? Mr. Overrated shelled the Locksmith (again) by going off for 30 points, 9 rebounds, 12 assists and 2 blocked shots. And unlike Game 1 — which the Wizards lost by only 93-86 despite playing poorly — there were no moral victories in Game 2. It was 116-83 blowout that represented the most lopsided win in the Cleveland Cavaliers' 112-game playoff history.

And what about Gilbert Arenas, who said, "I think everybody wants Cleveland in that first round" and "We don't think they can beat us in the playoffs three years straight"? Do you s'pose he'd rather be playing, say, the Hawks or Raptors? I do. Especially after last night's 7-point, 2-for-10 shooting performance.

Washington's plan for the series has been pretty obvious: Invite LeBron into the butcher's shop and then work him the hell over. Turns out that was the worst plan since, well, Plan 9 From Outer Space. King James rose to the challenge, scoring 14 in the third quarter and helping the Cavs blow the lead up to 25 points despite the thuggery of Brendan Haywood, who got the big bronze boot after sending Bron-Bron out of bounds with a flagrant foul. LeBron was pissed — and rightfully so — but all the outrage probably has Kurt Rambis doing gymnastics in his grave. (The McHale/Rambis clothesline has been taken down by the YouTube Nazis, by the way.)

Zydrunas Ilgauskas added 16 points and 9 rebounds to Cleveland's cause, and Wally Szczerbiak said "Suck it, Larry Hughes!" by scoring 15 on 6-for-9 shooting. Stevenson and Caron Butler scored 12 a piece and Antawn Jamison had 9, but the three combined to shoot 12-for-33 from the field. The series is now 2-0 and heading back to Washington.