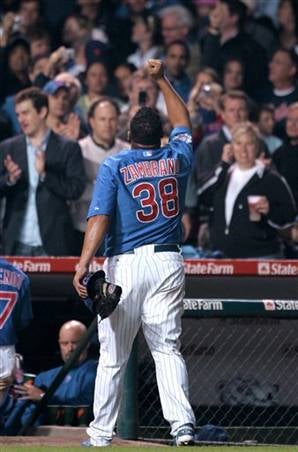 The Chicago Cubs are flying high right now; having won 12 of their past 15 following a 7-1 win over the Mets on Monday. Chicago is 13-6, off to its best start since 1985. But obviously some of their players do not understand the cruel workings of fate as it relates to this team. We're talking about you, Ronny Cedeno. You don't know it yet, but you have just doomed your team to failure, doing Steve Bartman one better right from the comfort of your locker room. Poor sap.
Following the game on Monday, Cedeno had this to say to reporters: "We're thinking about the World Series. I think we'll be OK if we keep playing like that." Manager Lou Piniella of course dove toward Cedeno and tried to cover his mouth with a pillow, but it was too late; the shortstop had jinxed his team, dooming fans to their 100th year of futility (or 90th, depending on how you look at it). Piniella quickly went into damage control. "This is a long season," he said. "Let's not get all crazy about this thing. Let's just stay cautionary and let's just keep playing good baseball, that's all." Too late, Lou. You're doomed. Cedeno's two-run single fueled a five-run eighth for the Cubs, who are 6-1 on their homestand. Carlos Zambrano earned his third victory in four decisions, and as you can see, he too was subdued and cautionary. Your Felix Pie update: Home run, 3 RBI in only at-bat.
• Who Needs Rollins? Chase Utley should be encased in Lucite between games, or at least Tupperware. He homered for the fifth straight game on Monday, and also made a diving stop to start a key double play in the third as the Phillies beat the Rockies 9-5 in their first meeting since the first round of the playoffs last season. Oh, and Jayson Werth inside-the-park homer.
• Skip, Don't Run. Skip Schumaker doubled in the go-ahead run in the ninth as St. Louis took a 4-3 win over Milwaukee, who announced that Ben Sheets would miss Wednesday's start with a triceps injury. And guess which Cardinal has reached base safely in every game this season? Anyone?
• Long Live The Hud. The Associated Press called the Nationals "woeful" in their game story today, hitting that mark a full month ahead of last year's pace. Tim Hudson threw six scoreless innings — despite giving up 10 hits — and also had two RBI as the Braves beat the Nationals 7-3, Atlanta's fifth straight win.