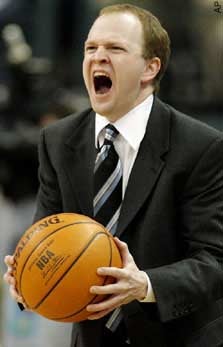 It wasn't the best season for the New Jersey Nets — but hey, Vince Carter is still around! — but that's not stopping the Nets from maximizing all corporate sponsorship opportunities.
Earlier this year, the Nets signed a deal with T-Mobile for a "Stay Connected" promotion to run throughout the playoffs. The presumption, of course, was that the Nets would be in the playoffs. So in addition to the "prize packages" of "allowing fans to have lunch with Nets dancers, participate in a Porsche driving school, and play in a 3-on-3 basketball tournament," they will, in fact, have the opportunity to watch a playoff game with coach Lawrence Frank. Because, you know, he won't be busy.
We desperately hope a Deadspin reader wins this promotion. So many questions!
It has to just kill you that Byron Scott is still coaching and you aren't. It hurts, right?
Are you a ginger kid?
Man, it must suck to be stuck here while everyone else is out, you know, coaching. Hey, pass the nachos, would you?
For Nets, No Playoffs, No Problem [Lion In Oil]