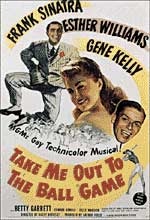 Of all the legacies that Harry Caray left us — Horry Kow, folks! HORRY KOW! — the most lasting will almost certainly be the warblings of "Take Me Out To The Ballgame" that have infiltrated not only Wrigley Field, but all our nation's stadiums. Well, now Major League Baseball is getting in on the "act."
Baby Ruth is sponsoring a contest for fans to send in videos of themselves singing the dogged song. The winner gets to embarrass him or herself in front of the whole planet.
One finalist will be chosen to lead the singing of "Take Me Out to the Ballgame" during the 7th inning stretch of the 2008 MLB All-Star Game at Yankee Stadium. Enter now and don't forget to make sure your video meets all the contest criteria:

* Originality, creative use and/ or incorporation of the Baby Ruth brand, and quality production
* The entry must maintain the integrity of the lyrics of the song
* The entry must include the Participant as the lead performer singing the song "Take Me Out to The Ballgame."
We encourage everyone to apply to this contest, and if you have something good, feel free to send your YouTube to us too. Best one we're sent gets to be featured on the site. That way you'll embarrass yourself on a somewhat less grand scale.
Take Me Out To The Ballgame Video Contest [The Angry T]
(Note: Our contest is not sponsored by Baby Ruth. We've always found those candy bars pretty gross, actually.)