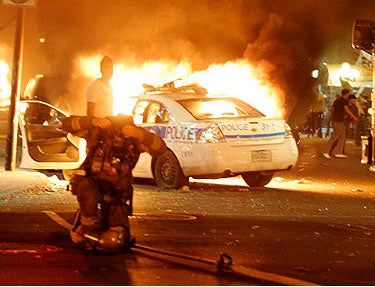 Sure, beating the Boston Bruins at any point in the NHL playoffs is a monumental achievement; just ask Bill Simmons. But I'm beginning to suspect that Montreal fans are just looking for an excuse to riot. Looting after a first-round playoff win? Really? Look, Canada ... the NBA Playoffs are going on down here, and we're trying to get some sleep. So knock off all the racket!
Hordes of rioting fans set fire to police cars, smashed store windows and looted local businesses following the Canadiens' Game 7 playoff win over the Boston Bruins. Police arrested 16 people, who face a number of charges — including breaking and entering a business, armed assault on a police officer, mischief on a police vehicle, assault and various bylaw infractions. "After the Canadiens won their game, people started attacking private businesses, attacking police officers and throwing rocks or any objects they could find at police cars," said Montreal Police Const. Laurent Gingras.
Here's the scene right after the game. When Canadians begin whipping off their shirts, you know trouble is ahead.
Rioters Run Amok In Montreal After Playoff Victory [The Gazette]