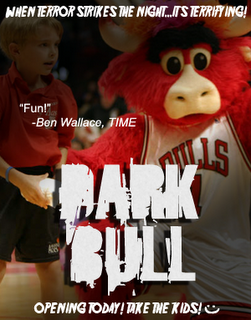 As we learned with this whole ugly Isiah Thomas thing, every NBA owner has his tipping point. Chicago Bulls owner Jerry Reinsdorf just may have reached his. It's the story you've heard so many times before: Colorful Bulls mascot Benny the Bull is being sued by an oral surgeon for an aggressive high-five that may have seriously injured the man's shoulder at a Bulls' game.
Benny is often in trouble; the controversy ranging from battery on a police officer while riding a scooter, to brawling with an inflatable likeness of himself on the Jerry Springer Show, to shooting Boston Celtics players with a T-shirt rifle. So far, Benny has managed to skate on every one. But will the charges stick this time?
Dr. Don Kalant Sr. alleged he was sitting near courtside on Feb. 12 when he raised his arm to get a high-five from Barry Anderson, who portrays the exuberant mascot in a bright red fuzzy costume. But Kalant, an oral surgeon, may now wish he had settled for a fist-bump instead. Instead of merely slapping Kalant's palm, Anderson grabbed his arm as he fell forward, hyperextending Kalant's arm and rupturing his biceps muscle, according to the lawsuit filed in Cook County Circuit Court.
My only hope is that Benny has a good attorney, and that he show up in court dressed in his full Benny costume. That would rule.
Oral Surgeon Says In Suit That He Was Injured In High-Five With Chicago Bulls Mascot [Chicago Tribune]
Benny the Bull, Free At Last [Deadspin]