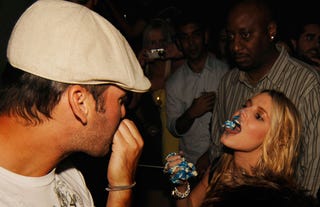 The birthday party for the quarterback of the Dallas Cowboys was celebrated the last night at a Dallas night club where he was joined by friends and family members. Tensions ran high for a little bit when an unexpected guest dropped by and moved through the throngs of people toward the guest of honor. The Cowboys' quarterback became nervous when a doe-eyed , blonde-haired woman with blue icing on her face approached him — should he tell her that she has blue icing on her face? That would be the polite thing to do.
A black man witnessed the entire stunning event take place right in front of him. He, too, was concerned about what to do with this mysterious woman covered in blue icing.
"If he's not going to say anything about the blue icing, maybe I should?" he thought to himself.
The woman covered in blue icing inched closer to the Cowboys' quarterback. The black man became more and more concerned.
"She's going to get blue icing on him if he's not careful..." he thought. But he was frozen, overcome with aprehension and mesmerized by her moxie .
She moved in closer...
....
....
"Noooooo!", the black man thought, "I could've prevented this. I should've done something."
The Cowboys' quarterback was powerless. The blonde woman with the mysterious blue icing leaned in and attacked the 28-year-old's tongue in front of the roomful of stunned onlookers. The Cowboys' quarterback was covered in blue icing. Chaos ensued.
The woman has yet to be identified and is still on the loose. Beware.
Jessica Simpson and Tony Romo [D Magazine] [via With Leather]