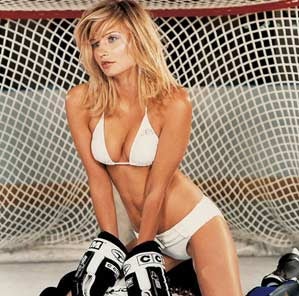 The NHL Closer is written by the five degenerates over at Melt Your Face Off, who attempt to reconcile their deviant behavior by invoking Sykes & Matza's Neutralization Theory and participating in the recreational pursuits of latch-hooking and bad MS Paint projects.
Thunderdome. Two teams enter, one team leaves. Tina Turner as Aunty Entity, singing "We Don't Need Another Hero" while swinging a hockey stick. Mel Gibson as Mad Max, before all the anti-Semitism, cycling the puck with a bunch of orphans. You've seen it all before.
As much as I detest using a bit that is so ... played, there were indeed two such situations last night in the National Hockey League — two Game Sevens.
There's no tomorrow...the teams are going to leave it all on the ice...give 110%...insert overused sports cliché here and then another slightly less-used but still-irritating sports cliché here and we're set.
To be honest, the only reason I kept up such a tired bit is so I could show off my horribly-embarrassing MS Paint skills:
Gary Bettman as the The Master is somehow oddly fitting. Angelo Rossitto would have been proud. But who in the NHL would be willing to take on the role of The Blaster?
With that, we're off to Tomorrow-morrow Land. Take it away, boys.
While My Bettman Gently Weeps. All of it was going to plan. The Capitals surged past the Flyers at Wachovia Monday, thereby ganking all available momentum, and headed home to D.C. to close out the series Tuesday. Alex Ovechkin had finally been programmed to kill, Cristobal Huet had realized the fewer rebounds, the less work and NHL.com was ready with the Matt Bradley Factor featurette. If the Caps were to take care of business, they'd meet up with Sidney Crosby and the Pittsburgh Penguins in Round 2. No doubt, this is THE match-up Gary Bettman prayed for.
Apparently, Jesus had a light dinner and turned in early last night.
As it has been customary in this nerve-shattering series, Nicklas Backstrom kicked things off with a power play goal. As the Flyers did their best to break the massive momentum shift, Scottie Upshall used a rare appearance on the power play to tie the game with under five minutes left in the fist. This was no doubt a call to arms to midgets everywhere, as Sami Kapanen (empty)-netted his second of the series to turn the tide in the Flyers' favor.
Of course, in Soviet Russia, tide turns you.
Alexander Ovechkin, who appears to be a good hockey player and will likely have a nice career in this league (I'm paraphrasing the verbal fellatio of our dear Versus broadcast team), proved that Game 6 was no fluke by means of a blue line blast that completely surprised Marty Biron. Other than this shot, Biron was razor sharp last night. Some analysts will say it was because his reflexes were catlike. I say it was because his eyes can see straight into the souls of sinners.
And six minutes into overtime, all conventional wisdom was sucked out of the Verizon Center. For free-agent signing Tom Poti was sent to the box, giving the Flyers a rare overtime power play. Timonen shot, Huet forget that rebounds are bad, and Joffrey Lupul walked around the netminder for his first playoff goal this year and the series clincher.
BREAKING NEWS: Gary Bettman has passed another mid-playoff rule change. If you are in the penalty box for a series-clinching goal that keeps one of the league's young stars from advancing, you must stay in said penalty box until Training Camp. Sorry, Tom. —Hextall454
FAT FUCKING FINN!!!: The Sharks advanced to the Western Conference Semifinals by defeating the Flames 5-3.
I lost this year's "Who Will Turn on Mike Keenan First?" pool by choosing Darryl Sutter. He was Keenan's assistant and heir apparent in Chicago! How can you blame me? Miikka Kiprusoff was this year's selection after Keenan pulled his #1 goaltender for the second time in the series, this time for allowing four goals on thirty shots. Two hundred six-year-old Jeremy Roenick scored two goals, including one that snuck through Kiprusoff in the same fashion that a miniature golfer bests the windmill hole: putt when the blade is in front of the opening.
Curtis Joseph replaced Kiprusoff after Joel Pavelski corralled and roofed a power play deflection that was not Kipper's fault. Joseph validated Iron Mike's decision by letting Devin Setoguchi's weak turnaround wrist shot find the back of the net. Keenan will antagonize Phaneuf, Huselius and Iginla soon enough. The over/under on Keenan's dismissal: January 2009.
Evgeni Nabokov was good enough, stopping 19 of 22 shots. Wayne Primeau, Iginla and Owen Nolan scored for the Flames. —Raskolnikov
I see you rolled your way into the semis. Dios mio, man. Liam and me, we're gonna fuck you up.
The Conference Semifinal Matchups have now been set, and they are:
Eastern Conference
* Philadelphia Flyers VERSUS Montreal Canadiens
* New York Rangers VERSUS Pittsburgh Penguins (Friday, 7:00)
Western Conference
* Colorado Avalanche VERSUS Detroit Red Wings (Thursday, 7:30)
* Dallas Stars VERSUS San Jose Sharks (Friday, 10:00)
A complete schedule, including those available for viewing on the juggernaut that is the Vs. cable network should be available by the time this Closer is posted on Versus'website.
Quick note: MYFO has been afforded the honor of writing previews for each of the above series for Deadspin. Look for them in the coming days. Obviously, expect a lot more of this:
* Owen Nelson and Kelly Devins contributed to the filing of this post
Puckdumps
* Another Puckdump? This is worse than the time the KB compared the Vancouver management situation to The Family Guy. Just kidding. [a href="http://communities.canada.com/theprovince/blogs/kurtenblog/archive/2008/04/21/the-canucks-according-to-family-guy.aspx">Orland Kurtenblog]
* A final word on the riots in Montreal. [Four Habs Fans]
* Photographic evidence that the actor who portrayed Principal Feeny on the television show Boy Meets World is a huge Flyers fan, and he seems kind of angry. [Barry Melrose Rocks]
* Shaven or Unshaven? See for yourself in the Edge Playoff Beard Gallery. Funny, I went through the entire slideshow and didn't see one photo of Sean Avery's playoff beard, Mary-Kate Olsen. Zing! [NHL.com]
* Finally, this video has made its way around the intertubes, but it is well worth revisiting. Hey drunken hockey fan, shine on you crazy diamond. Salute.