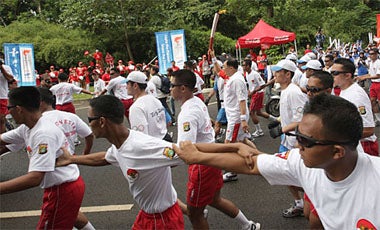 OK, we have a new leader for the lamest Olympic Torch Relay idea yet: In Jakarta, Indonesia on Tuesday, torch runners did laps inside of a closed stadium in order to avoid protests. Yes, in this genius move, all the Indonesian torch runners took turns running in circles, as a crowd that was hand-picked by the government watched and cheered. "Here it comes again. Gladys! (waves pennant)." This beats the previous lamest torch relay, in San Francisco, where they lit the thing and the runner jogged directly into a warehouse.
"This torch relay is the most ridiculous in Olympic history," said Wang Lixiong, a Beijing-based writer and researcher on Tibetan issues. "It is now being run in sealed-off areas. Many officials in Beijing must regret that they made such ambitious plans."
Meanwhile, Nepal is wondering what all the fuss is about. If anyone tries to protest the torch during its ascent of Mount Everest next month, soldiers will simply shoot them.
A U.S. citizen holding a "Free Tibet" banner has been turned back from the slopes of Mount Everest, a Nepalese army officer said. The incident comes as authorities in Nepal tighten security on Mount Everest in advance of the scheduled arrival of the Olympic torch in early May. Nepal has about 25 security personnel on the mountain, including 15 soldiers trained in mountain warfare, the army officer said. Security forces on the mountain have permission to shoot mountaineers engaged in anti-Chinese activities, according to a Home Ministry official.
You may have cleaned out American protesters, but you'll never stop the legendary Yeti. Not only is he for a free Tibet, but he hates fire.
Olympic Torch Goes Off Route [USA Today]
Tibet Banner Gets U.S. Citizen Kicked Off Mount Everest [CNN]