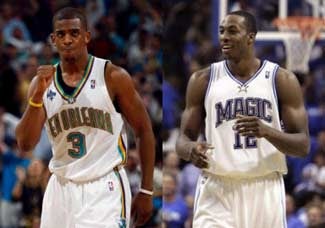 The NBA Closer is written by Matt McHale, who spent most of last night scribbling CP3-4-Me all over his Trapper Keeper. When he's not man-loving on Chris Paul, he can be found practicing his Duncan face at Basketbawful. Enjoy!

The doctor is most definitely in. Chris Paul may not have graduated from college, but he has an honorary degree in MVPology. And last night, he gave Dirk Nowitzki a hands-on lesson in the subject. CP3 scored 32 points and had a franchise playoff-record 17 assists, and the New Orleans Hornets crushed the Dallas Mavericks as if they were the insects, 127-103. And lest anyone forget: This is the matchup Nowitzki wanted. Sucker.
Speaking of The Flying Dutchman, he had himself a game — a team-high 27 points on 7-for-11 shooting — but he was also a big grumpy-puss all night long, scowling around and screaming at his invisible friend (Herr Gefartenalldertimen) once after he threw the ball out of bounds. Dirk may have the trophy, and he may be in all the history books, but he sure doesn't act like an MVP, does he?

And how about the Little General? After watching his team get sliced and diced by Paul in Game 1, Avery Johnson chose to double-team the tiny point guard early and often in Game 2. That strategy ... didn't work. Paul had 6 points and 8 assists in the first quarter, he had a double-double by halftime (12 points, 10 assists), and by game's end he had become the first player in NBA history (as far as I know) to have at least 30 points and 10 assists in his first two career playoff games. If you didn't just say "wow," I'll assume Agent Smith just popped out of the Matrix and made your mouth disappear.

Paul got some bigtime backup from David West (27 points), Peja Stojakovic (22 points, 5-for-7 from three-point range) and Tyson Chandler (10 points, 11 rebounds, 3 blocked shots). Meanwhile, Nowitzki's fellow starters looked too razzle-dazzled by Paul to do much of anything: Jason Kidd shot 3-for-10 and had 8 assists; Josh Howard scored 10 points and also went 3-for-10; and Erick Dampier had an Oliver Miller-like 6 points and 6 boards. The only bright spot for Dallas was the bench play from Jason Terry (16 points, 4 assists) and Brendan Bass (19 points, 8 rebounds). The Hornets now lead the series 2-0. Game 3 is on Friday.

Super. Man. More super than man. Dwight Howard had his second 20-20 game of the playoffs with 29 points and 20 rebounds, cradling the Orlando Magic in his mighty arms and flying them to an exciting 104-103 win over the Toronto Raptors. I now believe a man can fly.

After the game, Howard talked about his all-consuming need to defend truth, justice and his team's playoff hopes. "It was tough to come back and play the same way I played the first game. But one of the things (coach Stan Van Gundy) has put in my head, and (assistant coach Patrick Ewing), is just trying to play as dominant as I could on both ends of the floor. Since the last game, the only thing on my mind, when I go to sleep, when I wake up, at the gym with the guys, is to dominate."

And that's just what he did, with the Raptors playing the role of the gimp. Not that Chris Bosh submitted meekly and without a fight. The mightiest dino had 29 points and 10 rebounds, which was good, but he also missed a 19-footer with 1.9 seconds that would have won it, which was bad. Now, you might be thinking, "Bosh put it up from 19 feet out to win it ... is that really the best shot they could have gotten?" And that would be a good question. But Bosh had a rationale for his desperation heave from the perimeter.

"I knew I was going to have space. The time before I drove to the basket and I didn't get the call. I didn't want to put it in the referee's hands. I wanted to get a clean look — I felt like I did a decent job. I got a decent look and just missed the shot." If by "decent look" he means "I could kinda sorta see the basket," then he's absolutely right. But whether or not it was a good shot, the end result is the same: The Raptors are down 2-0, and that's a pretty deep tar pit for an extinct lizard to crawl out of.

Orlando got 18 points a piece from Jameer Nelson and Rashard Lewis, and Hedo Turkoglu added 12 points and 9 rebounds. Toronto's Jason Kapono had a "Return To Jurassic Park" performance with 20 points. (It's about time, Jason.)

Jason Voorhees would be impressed. Chee-chee-chee ah-ah-ah! Just when you think they're finally dead and buried, the Spurs crawl out of their maggot-encrusted graves, slip on a hockey mask and go back to hacking and slashing the competition. Meanwhile, Phoenix keeps rising from its own ashes seemingly for the express purpose of getting killed by the Spurs over and over and over again ... Groundhog Day-style. And I think I just set a new two-sentence record for unrelated references.
The Suns slipped on one of the Gorilla's banana peels and fell into a 2-0 hole after last night's 102-96 loss. Phoenix ran out to an early 14-point lead behind quick starts from Amare Stoudemire (33 points, 7 rebounds, 3 blocked shots) and Shaq (19 points, 14 rebounds, 4 blocked shots), but their defense couldn't — if you can even call it that — couldn't stop, contain, or even sort of slow down Tony Parker (32 points, 7 assists) or Manu Ginobili (29 points). Toss in a little Tim Duncan for good measure (18 points, 17 rebounds), and San Antonio's titanic trio accounted for 79 of their team's 102 points.

The 60 Million Dollar Man had 23 points and 10 assists, but the Suns got next to nothing from Grant Hill (zero points, 0-for-1), Leandro Barbosa (zero points, 0-for-7) or Raja Bell (8 points, 2-for-7), and that's not going to cut it. Not that the Spurs bench was lighting it on fire, but at least Michael Finley scored all of his 8 points in a 10-0 third quarter run that helped the old guys take control for good. Advantage: Spurs. In more ways than one.