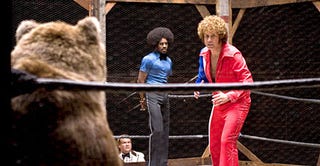 I
n a delayed reaction that I judge to be perfectly normal after having worked on a movie with Woody Harrelson, the bear which was featured in Semi-Pro killed its trainer on Tuesday. It happened in Big Bear Lake, Calif., and was reported to Variety by sheriff's spokeswoman Cindy Beavers. Hey, I'm just reporting the facts.
Three experienced handlers were working with the bear at Randy Miller's Predators in Action facility when the bear bit 39-year-old Stephan Miller on the neck, said San Bernardino County sheriff's spokeswoman Cindy Beavers. Stephan Miller is Randy's cousin, she said. Sheriff's Sgt. Dave Phelps said the bear was a 5-year-old male named Rocky. The Predators in Action Web site says Rocky is 7-feet tall, weighs 700 pounds and appeared in a scene in "Semi-Pro'' in which Will Ferrell's character wrestles a bear to promote his basketball team.
I'm not sure who it was who first thought that bears in captivity would be funny, but it's a notion we've retained for hundreds of years, and it rarely ends well; for us or the bears. Yes, this is tragic; but of all the misfortunes that can befall us in this world, this is one of the most avoidable. Rule of thumb: Person in bear suit, funny. Real bear, may kill you. Why do we keep forgetting this?
Semi-Pro Bear Kills Trainer [Variety]