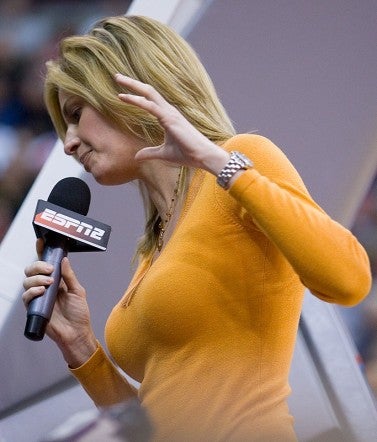 Erin Andrews spilled some of her secrets about what she finds attractive in a man to ab-attentive magazine Men's Health. Of course she prefers the confident, virile strongman, but she doesn't like a peacock. Men scrambling for her attention should be "more laid back" about it, she says, and suggests Tom Brady and David Beckham as perfect role models for this type of manliness. Thanks for that.
But, what if you're not an athlete? What if you shop at Kiehl's and carry around a murse full of man-ehancing products. Don't worry — you haven't completely ruined your chances.
I'm not advocating zero maintenance. A guy's face does benefit from daily upkeep, even though a flawless complexion isn't essential to me at all. I have no problem with a guy who uses products — I'm for whatever regime works, from cleanser to moisturizer, even eye cream or toner. And I don't see it often but I love when players lather up the SPF. There's nothing sexier than a man protecting himself from skin cancer.
So, you should wear a Tom Brady jersey, a big hat, sunglasses and cover yourself in SPF the next time you stalk Ms. Andrews at a sporting event. This guy will never be able to date her, obviously. He shouldn't have used the Crisco.
Routine Maintenance: Erin Andrews [Men's Health]