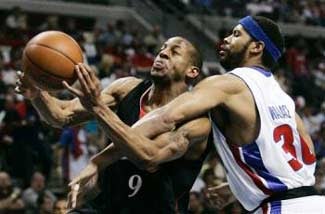 If the 76ers hadn't pulled off that Game 1 upset in Auburn Hills, tonight's NBA Playoff games would have the feel of a night off. The Celtics were terrifying against the Hawks in Game One and seem unlikely to remain so. The Lakers appears well on their way to continuing Allen Iverson's enobling failures. And there you have those crazy 76ers.
Certainly, the general consensus was that the Pistons lost Game One more than the Sixers won it, but hey, a win's a win. It would certainly appear unlikely that the Sixers would pull off another one, but man, if they did ...
It's most likely that we'll have three blowouts tonight. But you never know. Whatever gives us more of that crazy grizzly Reggie Evans is enough to make us happy.