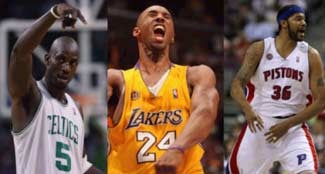 The NBA Closer is written by Matt McHale, who can't wait for the new Hulk movie and thinks Edward Nortan is the perfect heir to Bill Bixby. When he's not watching NBA officials river dance, he can be found admiring Roger Mason's superhuman strength at Basketbawful. Enjoy!

They're finally awake now. And angry. After their stunning Game 1 defeat at the hands of the upstart Philadelphia 76ers, the Pistons had a sudden and shocking realization: The NBA playoffs have actually begun. See, Detroit had been stuck in "It's the end of the regular season and we don't care" mode. After beating the Sixers 105-88, it's safe to say they're officially back in "It's time to open a can of whoop ass" mode. And Philadelphia was that ass last night.
The Pistons hit 55 percent of their field goals (while holding the Sixers to 39 percent shooting), grabbed 14 offensive rebound, and got solid contributions from Rip Hamilton (20 points, 7 rebounds, 7 assists), Antonio McDyess (16 points, 12 rebounds), Rasheed Wallace (16 points, 7 rebounds, 2 steals, 3 blocked shots) and Rodney Stuckey (12 points, 4 assists). It was the well-rounded effort of a team that had its focus back ... and wanted a little payback.

Detroit coach Flip Saunders said: "We were disappointed, upset and mad about what happened (in the last game). Our players responded." They sure did. And the Sixers? Not so much.

Andre Iguodala — Philly's leading scorer during the regular season — had only 4 points on 1-for-9 shooting. Fellow starters Willie Green (6 points, 2-for-8) and Samuel Dalembert (3 points, 1-for-6) didn't fare much better. The blowout would have been even worse if reserves Louis Williams (17 points), Reggie Evans (13) and Rodney Carney (11) hadn't all had career playoff highs. It was just that kind of night for the Sixers.

Philadelphia coach Maurice Cheeks said: "We've got to be able to respond." True dat. They get their chance at home on Friday night. Hopefully their response isn't "Not in the face! Not in the face!"

Pissing off the Celtics and their fans? Great idea. Top notch. Here's the thing about getting your playoff opponent all riled up: It rarely turns out well. (For further reference, please see Stevenson, DeShawn and Wizards, Washington.) But it's becoming rather obvious that the Atlanta Hawks didn't get that memo (and rumor has it they aren't using the new cover sheet on their TPS reports, either).

Mike Bibby began the foot-in-mouth-stuffing by going after the Boston faithful: "They are fair-weather fans if you ask me. They were kind of loud in the beginning (of Game 1), but a lot of those fans are bandwagon jumpers trying to get on this now. I played here last year, too (with the Sacramento Kings), and I didn't see three-quarters of them. They're for the team now and they might get a little rowdy, but that's about it."

When Kendrick Perkins heard those comments, he had a rather terse response: "He said what? Coming off a 2-10 night shooting, you'd say something like that, too." Of course, Bibby couldn't let that one go: "I don't know where [Perkins] got this tough streak from. His stat line was worse than mine. Until he does something in his career, for him to come at me like that, it kind of upsets me."

Bibs was so upset he went out and shot 2-for-7 and had one lonely assist. Way to shut people up, Mike. Meanwhile, his counterpart Rajon Rondo ate Bibby's lunch (12 points, 6-for-11, 6 rebounds, 8 assists, 4 steals), leading the Boston crowd to chant "Where is Bibby?" and "Rondo's better!"

It wasn't just Bibby, though. Josh Smith put his asshat on in the first quarter when he took Paul Pierce down, landed on him and then rolled over his head. Pierce had to leave the game to get treatment, but he returned to score 14 points and grab 4 rebounds. That was a nice compliment to Kevin Garnett's double-double (19 points, 10 rebounds) and Ray Allen's 15 points. Add all that together and you get a comfy-cozy 96-77 Boston victory. Now the series shifts to Atlanta, where — trust me — nobody is waiting to jump on the Hawks' bandwagon.

Kenyon Martin = Stupid. Assume that you're on a team that barely squeaked into the playoffs. Further assume that your team is perhaps hopelessly overmatched no matter what you do. Now assume you're facing off against the opposing team's best player, and that player is Kobe Bryant. Do you a) Pull a Shane Battier and work your butt off on D while quietly hoping for the best, b) Clothesline his arrogant ass, or c) Talk some smackity-smack to get him mad? Of course, the right answer is a, the righter answer is b, and the idiot's answer is c. Guess which one Kenyon Martin chose?

Said Lamar Odom: "(Kobe's) one of those players that you don't really want to make mad. I was surprised (Martin was talking at him). You never want to wake a sleeping giant. Talking to him is a surprise to me, but guys are competitors too, so sometimes you get caught up in it. Kobe was definitely coming out to prove a point."

If it was "Kenyon Martin needs to shut the hell up," then point taken. Kobe scored 49 points, and 19 of which came in a four-minute span of the fourth quarter to blow a five-point Lakers lead up to 14. The 49 was one point off his career playoff best, but Mamba did establish postseason-highs in fist pumps, Hulk Hogan-style poses, finger smoke blows, and primal screams. He also set an all-time record for jersey pops after a made shot. Seriously. Watch the video. And that's why Kobe will always win the Basketbawful MAP award — Most Annoying Player. I mean, has anyone else ever rubbed a spectacular performance in this much during Game 2 of a first round series? That's the exclusive province of guys like Chuck Person. You kind of don't expect that crap from an MVP candidate. (Well, unless it's Kobe.)

Meanwhile, the Enver defense continues to be as elusive as a lovechild sired by Bigfoot and the Loch Ness Monster. L.A. scored 122 points on 50 percent shooting and committed only 11 turnovers ... and the Nuggets' offense just couldn't keep pace, even with Allen Iverson (31 points), Carmelo Anthony (23) and J.R. Smith (21) chucking it up from all angles. My suggestion to George Karl's troops for Game 3: Find your missing D, and put a muzzle on Kenyon Martin.