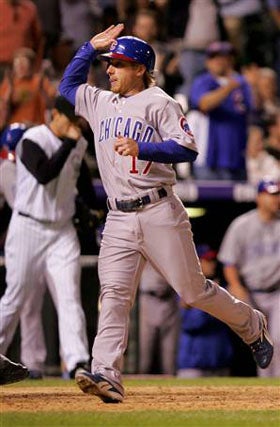 The Chicago Cubs played their first National League game on on April 25, 1876, less than two months before Custer met his fate at the Little Big Horn. In the former, Albert Spalding threw the first shutout in National League history, 4-0 over the Louisville Grays. In the latter, Crazy Horse earned the win for the Sioux in a game that was called due to one side being dead . (Little known fact: Marty Brennaman announced both events). On Wednesday the Cubs recorded their 10,000th victory, noting that it only took them 132 years. During the last 100 of those years they have been 15-6 only four times, one of those being today.
The Cubs beat the Rockies 7-6, as Ryan Theriot came through with a run-scoring single off Kip Wells with two outs in the 10th for Chicago's sixth straight win. All this led to the somewhat amusing quote by the Cubs' Kerry Wood, when asked to comment on the meaning of the franchise milestone: "Really, I didn't remember a lot about the first 9,000." Aramis Ramirez had a two-run homer for Chicago.
• Doh! Hard to lose your 350th career win on a changeup, especially if someone else throws it. The Padres' Trevor Hoffman gave up a homer to Benjie Molina with one out in the ninth that tied it, the Giants going on to take a 3-2 win in 13 innings. That denied starter Greg Maddux win No. 350.
• Pope! (Shakes Fist). Johan Santana doubled twice — yep, they were playing the Nationals — and pitched seven strong innings as the Mets prevailed 7-2. Things have just continued to fall apart for Washington since the Pope visited their stadium recently.
• No-Power Rangers. Forget about Detroit's slow start; that seems to have reversed itself. What about the Rangers? Miguel Cabrera had a three-run homer and Carlos Guillen had five RBI as the Tigers beat Texas 19-6. The slaughter included an 11-run sixth, as the Rangers (7-15) lost their sixth straight.
• Frank Who, Now? Mike Sweeney, the guy who would be odd man out of the Athletics sign Frank Thomas, got into to the starting lineup for the first time in six games and collected a solo homer and a run-scoring single, helping Oakland to a 3-0 win over the Twins.
• The Posada Adventure. Mike Mussina — remember him? — went seven strong innings and surpassed Bob Gibson on the career wins list (252), the Yankees beating the White Sox 6-4. Jorge Posada had three doubles. This is the reason for Chicago's loss, no doubt.