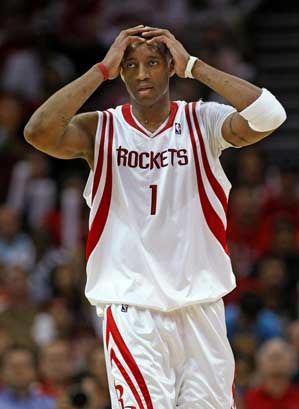 The Tracy McGrady death watch will continue tonight in Salt Lake City, where authorities are planning a raid on the McGrady compound after reports of multiple episodes of martyrdom. It's all getting ugly for Tracy.
With the Rockets down 2-0 and now playing in Utah, it's not looking like McGrady is gonna make it out of the first round this year either. And he's joking about it, kind of.
"It's my fault," McGrady said. "It's my fault we missed free throws. It's my fault we lost both games. Blame me. It's my fault we fouled to tie the game up. That's my fault. It's my fault they get easy layups. It's my fault we're not executing well on the offensive end. It's my fault a couple people in the stands ordered Heinekens and they got Budweiser. It's my fault. I'm sorry."

"It's my fault. Everything is my fault. It's my fault. It's T-Mac's fault. Everybody's blaming me. The Suns (for being down 2-0 to the Spurs). I mean, everybody. That's what it seems like. It's my fault. I'm out there by myself."
At this rate, in 2011, when a McGrady-led Atlanta Hawks fail to get past a Shaq-captained New York Knicks squad in the first round, he will take responsibility for the ongoing Democratic presidential nomination battle as well. (Which will still be going on then.) And everyone will believe him.
With Wink And Nod, T-Mac Takes Blame [Houston Chronicle]